Rack-Mount 2U Power System features hot-pluggable 1 kW modules.
Press Release Summary: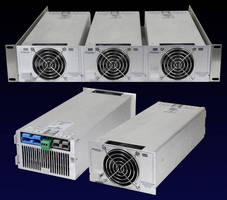 Delivering 3 kW or 2 kW with N+1 redundancy, BAP 3K-CR2U/19-3 Series is built with 3 heavy-duty 1 kW BAP 65F DC/DC modules assembled on 2U x 19 in., rack-mount, stainless steel cradle. Mechanical features facilitate insertion of converter modules, and no motherboard is required. Each module accepts nominal input of 48, 72, 110, 125, or 250 Vdc and is available in several output configurations: 24 V/40 A, 48 V/20 A, or 125 Vdc/8 A. Modules typically deliver efficiencies of 90% at full load.
---
Original Press Release:

2U Rack-Mount Power System with Hot-Pluggable 1kW Modules



ABSOPULSE Electronics – BAP 3K-CR2U/19-3 Series modular, rack-mount dc/dc power conversion system delivers 3kW or 2kW with N+1 redundancy. The series is suitable for power utilities, industrial control and telecommunication applications.



The BAP 3K-CR2U/19-3 is built with three heavy-duty 1kW BAP 65F dc/dc modules assembled on a 2U x 19" rack-mount cradle. The cradle is constructed with high-grade stainless steel and mechanical features that allow for easy insertion of the converter modules. Each converter is equipped with connectors that allow hot-pluggability and enable the insertion or removal of modules without powering down the system. No motherboard is required, contributing to the cost-effectiveness of the design.



Each 1kW module accepts a nominal input of 48Vdc, 72Vdc, 110Vdc, 125Vdc or 250Vdc and is available in several output configurations including 24V/40A, 48V/20A or 125Vdc/8A. Customer specified input and output voltages are also available. A built-in redundancy diode allows for parallel connection to increase current available to the load and for N+1 redundant operation. They are each equipped with an output fail alarm with Form C contacts and a diagnostic output ON LED. Each unit has a high quality built-in fan which provides sufficient airflow for operation at 0‹C to 50‹C temperature range without de-rating.



The converter modules typically deliver efficiencies of 90% at full load. Output regulation is ±1.5% combined across all input line and load conditions. Protection features include 2250Vdc input to output isolation, output current limiting with short-circuit protection and thermal shutdown with self-resetting. The modules comply with EN/UL60950-1 and equivalent industrial safety standards.