Quattro Electron Microscope features high vacuum heating stage.
Press Release Summary: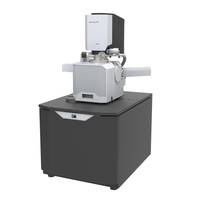 Quattro Electron Microscope is capable of performing high-resolution imaging and analysis of materials in hot, wet or chemically active conditions. Unit is equipped with cathodoluminescence detector which produces color images to highlight sample properties. Product is embedded with AutoScript automation tool. Microscope comes with detailed analytics which supports 180° dual EDS detectors.
---
Original Press Release:
New Quattro Field Emission ESEM Emphasizes Versatility and Ease of Use
Thermo Scientific Quattro ESEM allows materials science researchers to study nanoscale structure in almost any material under a range of environmental conditions
Microscopy & Microanalysis 2017 - The ability of scientists to study samples at the nanometer scale and in natural conditions and environments is critical to the discovery and development of new materials and products. The new Thermo Scientific Quattro field-emission environmental scanning electron microscope (ESEM) is designed for versatility, enabling scientists to perform high-resolution imaging and analysis of most material types under a wide range of experimental conditions, including: hot, wet, or chemically active.
"Our new Quattro is a high-performance analytical ESEM, ideal for a wide variety of academic, industrial and government labs that want the versatility and ease-of-use needed for multiple users of different experience levels and disciplines," said Trisha Rice, vice president and general manager, materials science, Thermo Fisher Scientific. "Furthermore, Quattro's environmental capability allows scientists to study materials in a range of environments as they develop new materials and products across disciplines including construction, automotive, packaging, coatings and energy. Quattro's ability to study the progress of chemical reactions, such as oxidation, corrosion, etching, crystal growth and catalysis, can have a big impact on science and the environment."
The Quattro ESEM is an extension of the industry-leading Quanta ESEM family. New accessories and additional features to provide more data include:
Cathodoluminescence (CL) detector produces color images highlighting sample properties not visible with conventional electron or X-ray imaging techniques. 
High vacuum heating stage allows for clean sample observations at high temperature.
AutoScript, a Python-based automation tool, allows users to program imaging and stage movements for unattended data acquisition.
Detailed analytics with a new chamber that supports 180° dual EDS (energy-dispersive x-ray spectroscopy) detectors with co-planar EBSD (electron backscatter diffraction), and WDS (wavelength-dispersive x-ray spectroscopy).
About Thermo Fisher Scientific
Thermo Fisher Scientific Inc. is the world leader in serving science, with revenues of $18 billion and more than 55,000 employees globally. Our mission is to enable our customers to make the world healthier, cleaner and safer. We help our customers accelerate life sciences research, solve complex analytical challenges, improve patient diagnostics and increase laboratory productivity. Through our premier brands - Thermo Scientific, Applied Biosystems, Invitrogen, Fisher Scientific and Unity Lab Services - we offer an unmatched combination of innovative technologies, purchasing convenience and comprehensive support. For more information, please visit www.thermofisher.com.
Contact:
Chuck Anderson
Thermo Fisher Scientific
+1 781-622-1348
charles.anderson@thermofisher.com
Web Site: http://www.thermofisher.com
More from Controls & Controllers