Quadrant Engineering Plastic Products and Foresight Technologies Team Up to Produce High-Performance Wet Process Tanks for the Semiconductor Industry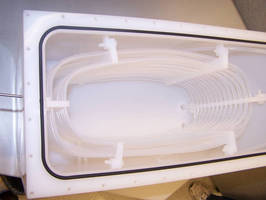 Reading, Pa. - Quadrant Engineering Plastic Products and Foresight Technologies found the perfect fit for Quadrant's Symalit® PFA 1000 High Purity grade fluoropolymer to produce wet process tanks for new and replacement applications.

"We're pleased with the results of working with Quadrant's innovative solutions. With Symalit PFA material, we save significant cost and increase the level of quality for our high purity systems we deliver to our wet process semiconductor original equipment manufacturers (OEMs) and end users," said Scott, Osterman, vice president, Foresight Technologies. "Quadrant is helping us deliver high performance, quality fabrication and excellent aesthetics to our customers."

Symalit PFA is a semi-crystalline unreinforced fluoropolymer that features ultra high-purity, non-stick surface finish with excellent resistance to high temperatures and harsh chemical environments. Its unique chemical, thermal and ultra smooth surface characteristics make Symalit PFA well-suited for the lining of containers and tanks, chemical storage and fluid handling, fittings and pump components for semiconductor process equipment.

Foresight Technologies changed from a compression-molded material with a non-uniform thickness and small dimensional size availability to Symalit PFA material. Quadrant's stringent manufacturing process of Symalit PFA ensures that each sheet maintains true dimensional thickness, without waving, which makes the material ideal to machine, weld and fabricate into a high quality process tank.

Symalit PFA is available in larger uniform sheets which makes manufacturing simpler and eliminates the need to weld smaller sheets together. As a result, Foresight Technologies will save time, money and resources while enhancing the integrity of the tank that warrants an unwavering margin of error to handle severe chemicals.

About Quadrant EEP's Symalit PFA

Symalit PFA is a semi-crystalline unreinforced fluoropolymer combining good mechanical, thermal and electrical properties with excellent chemical resistance. It also shows good resistance to high-energy radiation. It is ideal for high purity applications in chemical process and transport, semiconductor, pharmaceutical and biotechnology industries, As well as power plant applications with heat exchangers, Flu Gas Desulphurization scrubbers and preheaters.

Recognized for their ease of processing, Symalit fluoropolymers are available as semi-finished products in the form of rods, sheets, plates, hollow bars, lining laminates, plain pipe, fabric-backed pipes, HV-liner pipes, welding rods, cap strips and films.

About Quadrant Engineering Plastic Products (EPP)

Quadrant Engineering Plastic Products range from UHMW polyethylene, nylon and acetal to ultra-high performance polymers that resist temperatures to over 800°F (425°C). The company's products are used for machined parts in food processing and packaging, semiconductor manufacturing, aerospace, electronics, chemical processing, life sciences, power generation and diverse industrial equipment. Quadrant EPP's products are supported by a global team of application development and technical service engineers.

Full support in evaluating designs and machining of parts is available from Quadrant Engineering Plastic Products' Technical Support Group. Learn more about Quadrant at www.quadrantplastics.com.

Acetron, CleanStat, Duraspin, Duratron, Erta, Ertalyte, Ertalene, Ertalon, Extreme Materials, Fluorosint, Ketron, MC, Monocast, Nylatron, Nylasteel, Polypenco, Proteus, Sanalite, Semitron, Techtron, TIVAR and Vibratuf are registered trademarks of the Quadrant group of companies. Torlon is a registered trademark of Solvay Advanced Polymers.

About Foresight Technologies

Foresight Technologies is a leading Engineering and Manufacturing firm providing value engineered solutions, contract manufacturing and assembly to the world leaders in defense, semiconductor, biotech/pharmaceutical, solar, optics, MEMs and much more. Foresight Processing provides design and engineering services to users of advanced chemical processing systems. Foresight drives continuous improvement and customer responsiveness. The company's innovation and deep engineering skills are relied upon heavily for creating cost-effective and reliable product solutions whether in complex machining and assembly or highly engineered process tools.