Quadrant Announces Broader Size Range Available in Nylatron® NSM - The Industry's Most Wear Resistant Machinable Nylon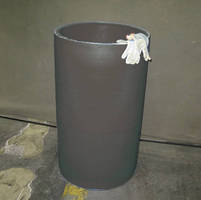 Machinable Nylatron NSM Outlasts Them All - Now in More Sizes

(Reading, PA, July 31, 2009) - Nylatron® NSM, the machinable nylon grade known for remarkable wear resistance is now available in a broader range of tubular shapes that can be more effectively machined into bearings, bushings and wear parts. Quadrant has invested in manufacturing technology that helps machinists and ultimately users benefit from closer size blanks for machined nylon parts. The tight economy has forced engineers and designers to look for smarter ways to reduce material costs and fabrication time. The technical team at Quadrant realized that the combination of the most wear resistant grade of PA6 - and more efficient parts making - was a very attractive package for today's world.

Quadrant's new capability allows for the production of tubular shapes up to 34" diameter, with even larger diameter tubes possible. Wall cross section as thin as 1.0" are possible saving both material cost and machine time for thin wall parts. These new tubes are available lengths of up to 39". Demand for this capability was a result of increasing use of Nylatron NSM for large bearing applications. Nylatron NSM has 5 times wear life (K factor) than other "premium" cast nylon materials and allows for higher loads and speeds based on its LPV of 15,000. Quadrant's testing was done at many different combinations of pressure and velocity to demonstrate the flexibility of Nylatron NSM.

While building the case for this additional capacity, Quadrant found that other "premium" cast nylon materials demonstrated little or no increased performance over oil-filled grades. This testing along with engineers search for greater value helped to bring the project to life.

Quadrant can utilize this new capacity to manufacture tubular shapes from Nylatron GSM (venerable MoS2-filled PA6), Nylatron GSM Blue and Nylatron LIG (oil-filled PA6) and Nylatron NSM (solid lubricant-filled PA6). This broad offering and new, efficient production can meet the performance and processing demands of today's equipment designers.

About Quadrant EPP

Quadrant EPP's products range from UHMW polyethylene, nylon and acetal to ultra-high performance polymers that resist temperatures to over 800°F (425°C). The company's products are used for machined parts in food processing and packaging, semiconductor manufacturing, aerospace, electronics, chemical processing, life sciences, power generation and diverse industrial equipment. Quadrant EPP's products are supported by a global team of application development and technical service engineers.

Full support in evaluating designs and production of parts is available from Quadrant Engineer-ing Plastic Products' Technical Support Group. Learn more about Quadrant at quadrantepp.com.

Acetron, CleanStat, Duraspin, Duratron, Erta, Ertalyte, Ertalene, Ertalon, Extreme Materials, Fluorosint, Ketron, MC, Monocast, Nylatron, Nylasteel, Polypenco, Proteus, Sanalite, Semitron, Techtron, TIVAR and Vibratuf are registered trademarks of the Quadrant group of companies.

If reader contact information is listed with this item, please send inquiries to Kim Imes or Kress Schwartz, Marketing Communications Team, Quadrant Engineering Plastic Products, 2120 Fairmont Ave. PO Box 14235, Reading, PA 19612-4235. Tel: 800-366-0310, Fax: 800-366-0301.