Quad-Channel Line Driver is suited for laboratory use.
Press Release Summary: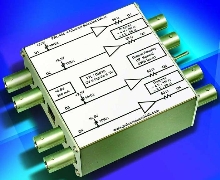 Featuring 10 kohm input impedance, PRL 444 self-contained buffer pod drives 4 TTL/CMOS signals into 50 ohm loads and can receive signals from devices with low drive current. Unit comes in aluminum housing with ac adapter and BNC or SMA signal connectors. With 50 ohm load terminations, all outputs can drive 100 ft of 50 ohm cables at clock rates exceeding 60 MHz. Applications include digital communications, test and measurement, and system integration.
---
Original Press Release:

Pulse Research Lab Introduces New 4-Channel Line Driver


April 27, 2005 - Torrance, CA - Pulse Research Lab (PRL) announces the innovative PRL 444 Four Channel, High Input Impedance, 50 ohm TTL Line Driver. This compact, self-contained buffer pod drives four TTL/CMOS signals into 50 ohm loads. With a 10 k ohm input impedance, the new, ready-to use PRL-444 can receive signals from devices with low drive current, such as sensors, PC based digital I/O cards, satellite receivers, optical transceivers, camera triggers, recorders, and laboratory equipment with TTL/CMOS outputs.

Each input has a 10 k ohm pulled up to 2.5 V so it can also be driven by open-collector devices. The 50 ohm back-terminated outputs of the PRL-444 can drive long lines with or without 50 ohm terminations. With 50 ohm load terminations, all outputs can drive 100 ft. of 50 ohm cables at clock rates greater than 60 MHz.

The PRL-444 is ideal for applications where a single-function instrument pod is needed to drive multiple TTL/CMOS outputs into 50 ohm loads. Small enough (1.3 in. x 2.9 in. x 2.9 in.) to fit anywhere on your test bench, it can often replace the need for bulky, expensive pulse generators at a fraction of the cost. The new 4-channel line driver from Pulse Research Lab works extremely well for high speed digital communications, test and measurement, system integration, hi/lo logic level generation, and basic lab use.

The unit includes an AC adapter and BNC or SMA signal connectors for ready-to-use convenience on the bench or in a system. The extruded aluminum housing is suitable for mounting with the optional brackets, and up to four units can share a single AC adapter using PRL voltage distribution modules.

Pulse Research Lab, established in 1990, provides signal buffering & translation modules for digital design, integration and testing. The company offers high-performance, affordable Basic Lab Tools and prototyping tools to professional electrical engineers, scientists, and technicians. Founder, David Kan, states, "PRL's charter has been to listen to our customers' problems and provide solutions. We've proudly and successfully been doing this for over fifteen years." For more information, please visit www.pulseresearchlab.com

Patti Smith
Smith Miller Moore
Advertising o Marketing o Public Relations - for Advanced Technologies
818-708-1704 / Fax: 818-344-7179
Cell: 818-424-7282
patti@smm-ads.com

More from Controls & Controllers