Motion Sensors / Detectors / Transducers
Pyroelectric IR Sensors feature surface mount design.
Press Release Summary: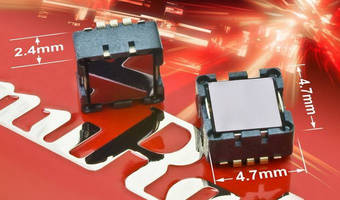 Measuring 4.7 x 4.7 x 2.4 mm, dual and quad type Models IRS-B210ST01, IRS-B340ST02, and IRS-B345ST03 offer optimum sensitivity and SNR and are stable against temperature changes. Units wake up consumer appliances, such as televisions, photo frames, or room lighting, from energy saving mode to normal operation once human movement has been detected. Model IRS-B345ST03 also has capability of detecting minor motion such as waving hand or head.
---
Original Press Release:

Murata Achieves Two World's Firsts with Launch of Smallest and Only Surface Mount PIR Sensor



Hoofddorp, Netherlands: Murata today announced the launch of the IRS-B series of dual and quad type surface mount pyro-electric infrared sensors. Believed to be not only the smallest PIR sensors in the world, but also the only surface mount devices available, the series are aimed at a broad range of energy saving applications in consumer appliances.

The series comprises three models, IRS-B210ST01, IRS-B340ST02 and IRS-B345ST03. Measuring just 4.7 x 4.7 x 2.4 mm, these extremely small devices offer high sensitivity and signal to noise ratio, high stability against temperature changes and a low power consumption. These cost effective sensors provide a cost effective method of waking up a consumer appliance, such as a television, photo frame or room lighting, from an energy saving standby mode to normal operation once human movement has been detected. The IRS-B345ST03 device also has the capability of detecting minor motion such as waving hand or head.

For further information and reader enquiries:

Aya Tonooka, Murata Electronics (UK) Ltd., Oak House, Ancells Road, Ancells Business Park, Fleet, Hampshire GU51 2QW , United Kingdom

Tel: +44 (0) 1252 811666

Fax: +44 (0) 1252 811777

E-mail: ayatonooka@murata.co.uk

Web: www.murata.eu

About Murata

Murata is a leading manufacturer of electronic components, modules, and devices. The complete range of this Ceramics Technology house includes ceramic capacitors, resistors/thermistors, inductors/chokes, ceramic resonators, buzzers, sensors and EMI suppression filters. Whilst the company gets 40% of its revenue from its ceramic capacitor products, it is also the world leader in Bluetooth & WiFi Modules, and a key manufacturer of power supplies. Murata also designs and manufactures mobile handset antenna families, piezoelectric actuators for fuel injection systems, short focal length ceramic lenses and speaker products.

Established in 1944, Murata is headquartered in Japan and has European offices in Germany, the Netherlands, the UK, Switzerland, Italy, France, Spain, Denmark, Sweden, Finland and Hungary.

For more information on Murata, please visit: www.murata.eu

More from Electronic Components & Devices