PXI Controller supports 4 test technologies.
Press Release Summary: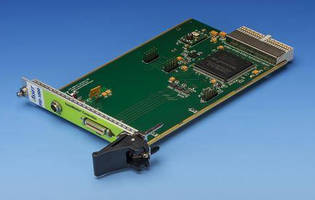 Operating from PC and PXI chassis, ScanWorks® PXI-1000 can apply boundary-scan tests based on IEEE 1149.1/6 standards (JTAG), processor- and FPGA-controlled tests, and access instruments embedded in chips via IEEE P1687 Internal JTAG (IJTAG) standard. Controller comes with single-port interface pod for connecting ScanWorks to board being tested; up to 8 controllers can be installed in one PXI chassis for testing multiple circuit boards simultaneously.
---
Original Press Release:

New PXI Controller for ASSET's ScanWorks Platform Supports Four Test Technologies



Boundary-scan test, processor-controlled test, IJTAG and FPGA-controlled test all operate from one ScanWorks platform



Richardson, TX – With the new PXI-based controller for ASSET® InterTech's ScanWorks® platform for debug, validation and test, engineers can test circuit boards with four different toolsets, each based on a different test technology. ASSET (www.asset-intertech.com) is the leading supplier of tools for embedded instrumentation.



Operating from a personal computer and a PXI chassis, the new ScanWorks PXI-1000 controller can apply boundary-scan tests based on the IEEE 1149.1/6 standards (JTAG), processor-controlled tests (PCT), FPGA-controlled tests (FCT) and access instruments embedded in chips via the IEEE P1687 Internal JTAG (IJTAG) standard.



"The PXI-1000 is a high-throughput controller that can be installed in a PXI chassis. It allows ScanWorks to be integrated seamlessly into a number of test executives, including LabView, LabWindows, TestStand, TestStudio, Visual Studio and others," said Kent Zetterberg, product manager for ASSET. "Users are able to debug or test an attached circuit board, validate its performance, program chips or operate the IJTAG instruments embedded in devices on the board."



Each of the four test technologies supported by ScanWorks and its PXI-1000 controller has its own strengths. Boundary scan, for example, will detect structural shorts and opens on chip-to-chip interconnects, program on-board devices or test memory access. PCT performs functional routines to find structural faults and program devices. FCT temporarily inserts a board tester into a functional field programmable gate array (FPGA) on the board to perform a variety of tests. And with ScanWorks' IJTAG tools, users are able to access and operate embedded on-chip instruments which conform to the IEEE P1687 IJTAG standard or the IEEE 1500 standard for embedded core test.



The PXI-1000 comes with a single-port interface pod for connecting ScanWorks to the board being tested. As many as eight controllers can be installed in one PXI chassis for testing multiple circuit boards simultaneously. In addition, the PXI-1000 controller can manage and monitor as many as eight non-boundary-scan discrete input/output (DIO) signals. Each DIO signal can be manipulated individually by ScanWorks.



Several e-books and white papers describing various embedded instrumentation test methodologies can be downloaded from the ASSET web site at:

http://www.asset-intertech.com/News/White-Papers



Pricing and Availability



The PXI-1000 ScanWorks platform controller is available now from ASSET InterTech and its distributors. Pricing starts at $4,995. For product information, call 888-694-6250, fax 972-437-2826, e-mail ai-info@asset-intertech.com or visit www.asset-intertech.com .



About ASSET InterTech



ASSET InterTech is the leading supplier of tools for embedded instrumentation for design validation, test and debug. The ScanWorks platform provides automation, access and analysis tools in one environment. Users can quickly and easily validate and test semiconductors, circuit boards or entire systems during every phase of a product's life, including design, manufacturing/repair and field maintenance. ASSET InterTech is located at 2201 North Central Expressway, Suite 105, Richardson, TX 75080.



Follow us on:

Facebook: https://www.facebook.com/ASSETInterTech

LinkedIn: http://www.linkedin.com/company/asset-intertech-inc.

Twitter: https://twitter.com/ASSETInterTech

You Tube: http://www.youtube.com/ASSETInterTech

Our blog - Test Data Out: http://blog.asset-intertech.com/



MEDIA CONTACTS:

Bob Greenfield, G&A PR 972/254-2887 bob.greenfield@verizon.net

Alan Sguigna, ASSET 972/664-3105 asguigna@asset-intertech.com