PVC Trim Adhesives are used for assembling larger parts.
Press Release Summary: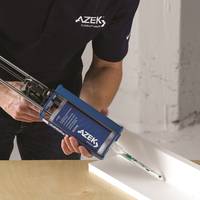 PVC Trim Adhesives consist of slow curing one-part urethane-based sealant. Units are used to seal windows and doors. Products are suitable for expansion and contraction joints on PVC trim boards. Ideal for surface bonding, these adhesives provides nail and gap filling solutions.
---
Original Press Release:
AZEK® Building Products Announces New Line of PVC Trim Adhesives
Number One Choice of Premium Trim Makes Installation Process Easier for Contractors
AZEK® Building Products, the leading provider of high performance cellular PVC trim, is announcing a new line of professional adhesives and sealants engineered to expertly bond and protect AZEK® Trim and Moulding. Expanding upon AZEK's original adhesive cement, this new structural adhesive line is designed for fast, easy installation of AZEK Trim, the No. 1 premium trim in the industry.
The system helps prevent trim joints from separating and provides nail and gap filling solutions designed specifically for PVC. The adhesives and sealants provide excellent flexibility, toughness and exceptional surface adhesion, even in extreme weather.
New AZEK® Adhesive solutions include:
Fast Cure – This is the best choice for core to core bonding. The line consists of a two-component adhesive formulated for PVC trim applications.
Slow Cure - Best option for surface bonding and assembling larger parts, or to create fills and blends. The line also consists of two-component adhesive formulated for PVC trim applications.
Fill & Flex – This product is optimal for expansion and contraction joints on PVC trim boards, sealing gaps around windows and doors. The line consists of slow curing, one-part, urethane-based sealant with a high level of flexibility and elongation to absorb expansion and contraction from heat or cold.
"We've been talking to builders and contractors to learn how we can make installing our trim and moulding products even easier, and we heard them loud and clear," said Loi McLoughlin, AZEK Building Products General Manager of Trim. "We wanted to come out with an adhesive collection that would help contractors complete projects more efficiently and complement that with all the tools they would need on the job."
Also included in the launch is an entire suite of accessories including manual, hi-flow dispensing guns, caulking gun adaptors, nail erasers, quick-mixing tips, and plastic joining biscuits.
AZEK Building Products stands at the intersection of science and style, providing homeowners with durable and beautiful products while keeping the contractors needs in mind through innovation in installation. More information can be found at AZEK.com/adhesives.
About AZEK® Building Products:
AZEK Building Products is a leader in the development of premium, low maintenance exterior building products. Available to a worldwide audience, our product lines span AZEK Trim, Decking, Railing, Moulding, Porch and Pavers as well as capped wood composite Decking and Railing under the TimberTech brand. Both brands, synonymous with quality and innovation and made in America, lead their market areas by continually reinventing product lines and redefining entire product categories. For more information about AZEK, visit www.azek.com. For more information on TimberTech, visit www.timbertech.com.
More from Cleaning Products & Equipment