PVC Ball Valves feature multifunctional locking handle.
Press Release Summary: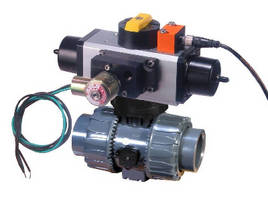 Available in ½-4 in. sizes, P2 Series 2-Way True Union Ball Valves include DUAL BLOCK® system, which locks union nuts, preventing back-off due to vibration or thermal cycling. Deep grooves, thick O-rings, and cushioned PFA seats contribute to optimized seals at pressures up to 232 psi, while integral mounting flange and support bracketing combine to facilitate actuation and anchoring. Offered in PVC or CPVC with NPT or glue socket connections, valves use electric, pneumatic, or manual actuators.
---
Original Press Release:

Assured Automation Announces the P2 Series Two-Way True Union PVC/CPVC Ball Valves



Assured Automation extends their Ball Valve Line with the addition of the P2 Series full port PVC true union ball valve. Available in ½" to 4" the P2 Series offers a variety of advanced features such as a high quality stem and ball support system and a multifunctional locking handle. In addition, the P2's DUAL BLOCK® system locks the union nuts preventing back-off due to vibration or thermal cycling. Deep grooves, thick o-rings and cushioned PFA seats contribute to strong seals at pressures up to 232 PSI while an integral mounting flange and support bracketing combine for a simple adaptation for actuation and anchoring.

This versatile industrial valve is available in PVC or CPVC with NPT or Glue socket end connections. Actuators are available in electric, pneumatic or manual handle.
Assured Automation's P2 series can be used successfully in many industrial applications, including industrial process piping systems, acid waste systems, high purity systems as well as plumbing and mechanical pipe systems.

P2 Series PVC Ball Valve Featured Application

A beverage bottling company was recently fined for acid and caustic leakage from overhead lines. They traced the problem to leaking true union CPVC valves on their wastewater neutralization lines. The vibration from nearby pumps caused the threaded unions on the valves to "back off", compromising the compression on the union o-rings, dripping acid and caustic on employees below which resulted in a fine from inspectors.
Since most CPVC union valves are manufactured in a similar fashion with the same potential to loosen, the bottling company considered replacing the valves with costly high alloy valves. Luckily they were introduced to the Assured Automation P2 Series valve.

The P2 Series features a patented system which locks the unions in place. Thermal expansion and vibration will not cause the P2 Series union ends to "back off". The P2 also features a double o-ring stem seal to ensure a bubble tight seal on the stem for the life of the valve.

The bottling company recently replaced their leaky valves with twenty of the P2 valves. It was an easy retrofit into their current system and they were back in full operation in one day. The workers are now confident working underneath the acid and caustic lines, knowing the superior features on these valves will give them bubble tight seals on their critical services.

About Assured Automation

Assured Automation is a privately held company that sells automated valves, actuators, flow meters and valve accessories. Located in Clark NJ, Assured Automation's customers include original equipment manufacturers, resellers, and end users. Their products are used for fluid and gas applications in a ir drying, pollution control, process control, laundry equipment, textile dyeing & drying, bottling & dispensing equipment, ink & paint dispensing and industrial compressors. Their valves have been used reliably in curbside gas shut-off systems, award-winning architectural fountains and many other high-profile projects. The company markets its products through a network of direct sales offices, technically-oriented representatives, and distributors throughout the world. For more information contact Assured Automation at 800-899-0553, by e-mail at info@assuredautomation.com or visit www.assuredautomation.com.

More information on the Assured Automation P2 Series PVC Ball Valve can be found at:
http://assuredautomation.com/P2/index.php

P2 Series Ball Valve Datasheets:
http://www.assuredautomation.com/literature/P2_datasheet.pdf


More from Test & Measurement