Push-to-Close Rotary Latch suits industrial enclosure doors.
Press Release Summary: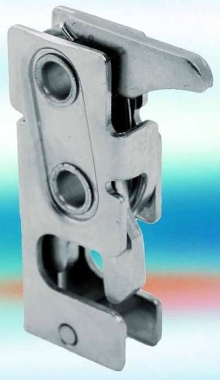 With all-metal construction, mini R4 combines security of rotary latch closure with smooth, push-to-close operation in 1.1 in. deep x .56 in. thick package. Concealed latch mounts on inside of enclosure door and engages with striker bolt mounted to frame. Able to be hand- or remote-actuated, it is offered in different styles that permit actuation force to be applied in line with, or perpendicular to, latch body.
---
Original Press Release:
Slim Profile Push-to-Close Rotary Latch Provides Robust Performance with Low Closing Force
Concordville, PA, April 20, 2005 A new all-metal latch introduced by Southco uniquely combines the security of a rotary latch closure with the convenience of smooth push-to-close operation and a low closing force all in a compact package. Despite its narrow profile only 14.2 mm (.56") thick and 28 mm (1.1") deep, this new mini R4 rotary latch from Southco is a robust unit suitable for the demands of industrial enclosure doors or for storage compartment doors on off-highway and emergency vehicles routinely subjected to shock and vibration. This concealed latch style is designed to mount on the inside of an enclosure door and engage with a striker bolt mounted to the frame. The compact size of the latch minimizes internal protrusion within the enclosure. On opening, the latch cam rotates out of the body to disengage from the striker bolt. Upon closing, the striker bolt re-engages the latch cam and slides back into the latch body along with the cam. There, the striker bolt remains shrouded by the metal body of the latch, providing a strong, secure, protected connection. Available in multiple styles to satisfy a range of installation and actuation options, these mini R4 rotary latches are all hand actuated, either by direct action on the latch trigger or by remote actuation through rods or cables attached to the latch trigger. Different styles permit the actuation force to be applied either in line with, or perpendicular to the latch body. All styles are available for either left-handed or right-handed operation. The combination of low closing forces and remote actuation capability makes these latches especially useful for multi-point latching on doors with long spans that can flex when closing. Mounted at the extreme ends of the door and operated through rods or cables connected to a centrally located actuator handle, the easy-closing latches provide positive multi-point engagement with convenient single-point actuation. Common applications for the mini R4 rotary latch include: engine hoods, battery compartments, and access panels on off-highway equipment; storage compartments for emergency vehicles; electronics cabinet doors; and hinged panels such as access panels, safety guards, or enclosure doors on industrial equipment. Another common use is as a positive catch for a "second" door of a double-door set, one that can be accessed quickly by reaching around behind the door to trigger the actuator. Housings, internal components, and striker bolts are zinc-plated steel with a bright chromate finish. Cams and triggers are hardened steel that is zinc plated with a bright chromate finish. The internal springs are passivated stainless steel. Mounting options include a 7.2 mm (.28") through-hole style, and threaded styles with 1/4-20 or M6 threads. For more information, visit Southco's website at southco.com; e-mail their 24/7 customer service department at info@southco.com; call 610-459-4000; or fax to 610-459-4012. Southco is a leading global provider of engineered access solutions, including latches, captive fasteners, hinges, handles, and other accessories for applications in the marine, networking, telecommunications, computer, automotive, mass transit, off-highway/construction, RV/caravan, industrial machinery and HVAC industries. Southco is strongly focused on customized engineering solutions and global support for its key customers. The company aspires to be a virtual engineering center for its customers' engineered-access solutions and is committed to providing outstanding quality and overall satisfaction. Southco's promise to its customers is to connect, create and innovate to provide the best solution for every access engineering problem.
More from Electronic Components & Devices