Purging Recovery System handles difficult plastics.
Press Release Summary: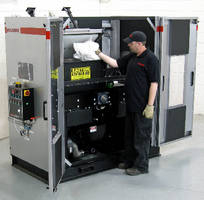 Featuring 2-stage operation, Purging Recovery System(TM) first slices or planes rock-like purgings into small pieces, then reduces pieces to uniform regrind. System is applicable to flexible vinyl, which stretches when worked by cutting blades and can jam conventional granulators. In addition, system can process shear-sensitive polymers like polystyrene, which can melt as frictional heat builds up in standard equipment.
---
Original Press Release:

Unique System for Transforming Purgings into Valuable Regrind Now Readily Handles Traditionally 'Difficult' Plastics



Maguire Adds Polystyrene and Flexible Vinyl to the List of Materials That Are Reclaimable with the Purging Recovery System(TM) (PRS) and Achieves CE Certification for the System

ASTON, PENNSYLVANIA, U.S.A., Maguire Products, Inc. has enhanced its Purging Recovery System(TM) (PRS) for transforming purgings into regrind and has received the CE certification required to make the PRS available in Europe, the company announced today.

The PRS is a two-stage system that first slices or planes rock-like purgings into small pieces, then reduces the pieces to uniform, high-quality regrind. Maguire will highlight the new capabilities of the PRS at NPE2012 and present data demonstrating that the system quickly repays its investment cost by reclaiming material that would otherwise be put to waste (Booth 5963).

A purging consists of the transitional material that passes through an extruder as the operator shifts from one job or color to another; typically it is discharged onto the shop floor, hardens, is scraped up, and is disposed of, ultimately ending up in a landfill. The PRS is the only equipment designed specifically for the rugged work of size-reducing these heavy masses of plastic, according to B. Patrick (Pat) Smith, Maguire's vice president of marketing and sales.

While the PRS is already used to reclaim purgings of many widely used polymers, the new enhanced design extends its applicability to flexible vinyl, which stretches when worked by cutting blades and can jam conventional granulators; and to shear-sensitive polymers like polystyrene, which can melt as frictional heat builds up in standard equipment. The design improvements permit reclaim of 85 Shore A vinyl, such as that commonly used in wire and cable.

"PRS systems now in use by injection molders who make multiple color changes consistently recover purgings at a rate of 125 pounds per hour, or 1,000 pounds [455 kg] per eight-hour shift," said Smith. "If the polymer is worth one dollar per pound, the PRS pays for itself in only 30 shifts. This is accomplished with minimal energy consumption-an average of 7.5 kWh-since the PRS uses three small motors with a total horsepower of 11, as against motor sizes of 100 horsepower or greater for a standard heavy-duty granulator."

A streaming video demonstrating the features of the system and its mode of operation is posted on the company website at www.maguire.com/page.php/prs20.htm.

Low-Cost PRS Does a Job Considered Too Risky for Expensive Granulators

While heavy-duty granulators typically sell in the range of USD $100,000 to $200.000, Maguire offers the PRS for only around $30,000.

"Since a ten-pound [4.5-kg] lump of hard plastic could damage the rotor of a conventional granulator, until now there have been limited options for reclaiming purgings," said Smith, "yet over time purgings add up to a waste of material valued at thousands of dollars per year."

The Purging Recovery System draws on the simple concept of the carpenter's plane. It consists of a table that is split into two levels and a purging containment chamber that, upon startup of the system, moves back and forth over the table. The plane, mounted at the point of disjunction between the two surface levels, is actually a rotor with staggered knives that turns at 1750 r.p.m. With each pass of the containment chamber, the rotor planes away a thin (0.5-in. or 13-mm) slice from the bottom of the purging and propels these pieces into the hopper of a compact granulator beneath the table. As material is planed away from the purging, a pneumatically-driven hold-down plate in the containment chamber keeps the purging in contact with the knives.

The design enhancements that now permit efficient reclaim of flexible vinyl and polystyrene included adjustments to 1) the configuration of the eight rotor knives making up the plane; 2) the clearances around the plane; and 3) the angle of attack between the purging and the plane.

MAGUIRE PRODUCTS, INC., headquartered in Aston, Pennsylvania, U.S.A., is the world's largest supplier of gravimetric blenders and liquid color pumps and also manufactures loading systems, dryers, auger feeders, and related equipment and software. Its customers include injection, blow, and rotational molders, extrusion processors, and compounders. Founded in 1977, Maguire operates six manufacturing facilities in Aston. The company maintains a network of distributors in the Americas and overseas and has three sales and service subsidiaries that stock, sell, and service auxiliary equipment systems from Maguire and its affiliate, Novatec, Inc.: Maguire Canada, Maguire Europe, and Maguire Asia. Visit www.maguire.com

More from Packaging Products & Equipment