Pumps suit coating and semiconductor applications.
Press Release Summary: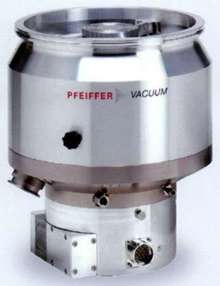 With 1,200 l/s pumping capacity, TPH 1201 turbopump is designed for harsh-duty applications with rotor geometry that permits foreline tolerance of 0.5 mbar without requiring drag stage. Performance of TPH 2301 minimizes number of pumps required in semiconductor 300 mm multi-pump chambers. It delivers 2,100 l/s for Nitrogen and 1,950 l/s for Hydrogen and Argon, while offering more than 2,000 sccm of gas throughput for Argon and Nitrogen.
---
Original Press Release:

Pfeiffer Vacuum Introduces High Reliablity Turbo Pumps for Coating and Semiconductor Applications - the TPH 1201 and TPH 2301


Pfeiffer Vacuum, one of the world's leading producers of vacuum products and services introduces best-in-class 1000 l/s and 2000 l/s turbo pumps, the TPH 1201 and TPH 2301. They're both based on the proven TPH 2101 pump - the benchmark for reliability and performance in high particulate semiconductor CVD and PVD applications, with a MTTF of over 250,000 hours. These pumps utilize the same small envelope, electronics and interfacing as the TPH 2101. These pumps feature a new advanced rotor design, improving the pumping performance.

The new TPH 1201 turbopump sets the standard in the 1200 l/s pumping capacity category with the highest performance and reliability. Designed for harsh duty applications, the TPH 1201 contains a unique combination of high pumping speed for light gases and high throughput for heavy gases. An advanced rotor geometry permits a high foreline tolerance of 0.5mbar without the need for a drag stage, eliminating the concern of clogging in high particulate environments associated with drag-style pumps. Any orientation is possible with the TPH 1201.

The TPH 2301 outperforms all other ISO 250 flanged pumps on the market. It delivers 2100 l/s for Nitrogen and 1950 l/s for Hydrogen and Argon while offering more than 2000 sccm of gas throughput for Argon and Nitrogen. The outstanding performance minimizes the number of pumps required in semiconductor 300mm multi-pump chambers, reducing capital costs and footprint, while increasing safety, uptime and wafer throughput.

Pfeiffer Vacuum, Inc., develops, produces and markets key components for vacuum technology used in semiconductor fabrication, optical and thin film deposition, such as flat panel displays and TV monitors, analytical instrumentation, high energy physics, and research and development. Pfeiffer Vacuum offers an extensive range of vacuum pumps, vacuum gauges, leak detectors, mass spectrometers, and accessories such as valves, fittings and flanges.

Pfeiffer Vacuum North American operations offer marketing, sales, field services, repair, customer training, and applications and support. Sales and support functions are located throughout the U.S. with a major customer support center in Milpitas, California, in the heart of the semiconductor industry.

For further information, contact: Philip Tremblay, Product Manager, at Pfeiffer Vacuum, Inc., 24 Trafalgar Square, Nashua, NH 03063-1988; Phone 603-578-6500; Fax 603-578-6550. Web site: pfeiffer-vacuum.com; E-Mail: ptremblay@pfeiffer-vacuum.com

More from Laboratory and Research Supplies and Equipment