Pump Protection System is cUL, ATEX, and IECEx approved.
Press Release Summary: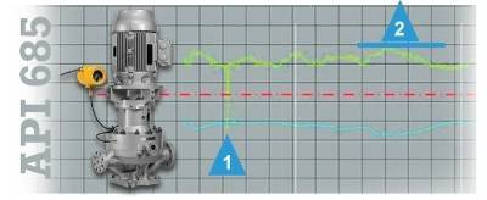 Using ultrasonic probe to monitor gas inside process fluid as it passes through sealless magnetic drive pump, VapourView provides early warning of incorrect priming, venting, cavitation, or entrained process gas. Warning signal is sent to process operator when ultrasonic probe detects presence of even minute gas levels — as low as 1% per volume. Operating from -40 to 356°F, system includes non-invasive detection sensor, flameproof electronics, onboard data recording, and local visual display.
---
Original Press Release:

Sundyne Introduces cUL, ATEX and IECEx Approved VapourView Pump Protection System



Sundyne Introduces cUL, ATEX and IECEx Approved VapourView Pump Protection System



ARVADA, Colo., -- Sundyne, a leader in the design and manufacture of centrifugal sealless magnetic drive pumps for use in the global oil and gas production, refining, petrochemical and chemical industries, is pleased to announce that their VapourView Pump Protection System is now cUL, ATEX and IECEx approved.



VapourView is an innovative tool that monitors the gas inside the process fluid as it passes through a Sundyne sealless magnetic drive pump. When the probe detects the presence of even the most minute gas levels - as low as 1% per volume - a warning signal is sent to the process operator. This instant feedback helps prevent harm to the pump from occurring by providing early warning of incorrect priming, venting, cavitation or entrained process gas, which can result in pump damage or even failure.



Power and vibration monitors only alert the operator to the symptoms of gas in the process liquid; and in many instances, the pump may already be damaged when these monitors are triggered. By measuring the process fluid condition in real-time with an ultrasonic probe, the VapourView provides feedback instantaneously, ensuring that the pump is working reliably and without risk of damage. Field installation experience shows that a Sundyne sealless magnetic drive pump fitted with the VapourView system is 50% more reliable compared to other pumps utilized in the same processes.



Key features of the VapourView include a non-invasive detection sensor, flameproof electronics, on-board data recording, and a local visual display, as well as a wide temperature operating range of -40 - 356ºF (-40 - 180ºC). The VapourView's 4 - 20 mA output signal is compatible with standard digital control systems and complies with cUL, ATEX and IECEx standards.



The Sundyne VapourView Pump Protection System is available to order now as an optional accessory for Sundyne API 685 sealless magnetic drive pumps, including the LMV-801S and HMD/Kontro GSP models, or as a retrofit kit for pumps already in operation. Visit www.sundyne.com to learn more.



About Sundyne:

Headquartered in Arvada, Colo., USA, Sundyne is a leading manufacturer of highly reliable and efficient centrifugal pumps and compressors for use in oil and gas production, refining, petrochemical, chemical, power generation and water processing industries. Sundyne is the world leader in delivering low-flow high-head integrally geared centrifugal pumps and compressors; as well as safe and efficient sealless magnetic drive pumps. Sundyne pumps and compressors meet stringent API and ISO standards.



About Accudyne Industries:

Accudyne Industries is the parent company of Sundyne, and a global provider of precision-engineered, process-critical and technologically advanced flow control systems and industrial compressors that deliver consistently high performance and give confidence to the mission of its customers in the most important industries and harshest environments around the world. Today, Accudyne is powered by more than 2,800 employees at 16 manufacturing facilities, supporting a broad range of industries in more than 150 countries. For more information, visit www.accudyneindustries.com.



CONTACT: Sundyne Marketing, marketing@sundyne.com



Web Site: http://www.sundyne.com

More from Printing & Duplicating Equipment