Pulsed Power Transistor features broadband operation at +50 V.
Press Release Summary: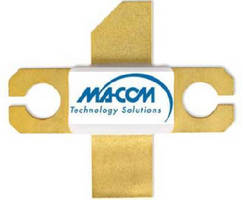 Intended for civilian and military pulsed radar applications, Model MAGX-002735-040L00 delivers 40 W peak power at 55% drain efficiency with minimum gain of 10.5 dB across full 2.7-3.5 GHz frequency band. Gold metalized, internally matched, GaN on SiC, RF power transistor exhibits optimal performance when operated at +50 V, using 300 µs pulse and 10% duty cycle pulsed signal. Manufactured in thermally enhanced, Cu/Mo/Cu, flanged ceramic package, transistor provides MTTF of 600 years or better.
---
Original Press Release:

M/A-COM Technology Solutions Announces New GaN HEMT Pulsed Power Transistor



Depletion Mode HEMT Microwave Transistor Features Broadband Operation at +50 V and MTTF of 600 Years

Lowell, MA, - M/A-COM Technology Solutions Inc. (M/A-COM Tech), a leading supplier of high performance analog semiconductor solutions, introduced today a highly efficient 40 W pulsed power transistor optimized for civilian and military pulsed radar applications between 2.7 and 3.5 GHz.

The MAGX-002735-040L00 is a gold metalized, internally matched, GaN on SiC, RF power transistor that exhibits excellent performance when operated at +50 V, class AB operation, 40 W peak output, using a 300 µs pulse and 10% duty cycle pulsed signal. Leveraging state of the art wafer fabrication processes, the transistor provides high gain, efficiency, bandwidth, and ruggedness over a wide bandwidth for today's demanding needs.

Based on extensive HTOL RF accelerated life testing, quantifiable test results demonstrate this high performance product is designed to provide an MTTF of 600 years or better.

"The 800 MHz of instantaneous bandwidth and rugged performance makes this versatile device an excellent choice as a driver stage or output stage for any s-band radar power amplifier application," said Gary Lopes, Senior Director for RF Power Technologies.

Manufactured in a thermally enhanced, Cu/Mo/Cu, flanged ceramic package, the MAGX-002735-040L00 boasts excellent thermal performance as well as high breakdown voltages that allow for reliable and stable operation in extreme mismatched load conditions. Operating at +50 V, class AB, the pulsed power transistor provides 40 W of peak power at 55% drain efficiency with a minimum gain of 10.5 dB across the full 2.7 to 3.5 GHz frequency band.

The table below outlines typical performance:


Parameters       Units       MAGX-002735-040L00

                                   Typ

Output Power     W Peak            44

Power Gain        dB               10.5

Drain Efficiency   %               55

MTTF             Years             600

Package	                   Cu/Mo/Cu Flanged Ceramic Package

Production quantities and samples of MAGX-002735-040L00 are available from stock. Final datasheets and additional product information can be obtained from the M/A-COM Tech website at: www.macomtech.com

ABOUT M/A-COM TECHNOLOGY SOLUTIONS INC.

M/A-COM Technology Solutions (www.macomtech.com) is a leading supplier of high performance analog semiconductor solutions for use in radio frequency (RF), microwave, and millimeter wave applications. Recognized for its broad portfolio of products, M/A-COM Tech serves diverse markets, including CATV, wireless infrastructure, optical communications, aerospace and defense, automotive, industrial, medical, and mobile devices. M/A-COM Tech builds on more than 60 years of experience designing and manufacturing innovative product solutions for customers worldwide.

Headquartered in Lowell, Massachusetts, M/A-COM Tech is certified to the ISO9001 international quality standard and ISO14001 environmental management standard. M/A-COM Tech has design centers and sales offices throughout North America, Europe, Asia and Australia.

M/A-COM, M/A-COM Technology Solutions, The First Name in Microwave and the M/A-COM logo are trademarks of M/A-COM Tech. All other trademarks are the property of their respective owners.

FOR SALES INFORMATION, PLEASE CONTACT:

North Americas -- Phone: 800.366.2266

Europe -- Phone: +353.21.244.6400

India -- Phone: +91.80.43537383

China - Phone: +86.21.2407.1588

MEDIA CONTACT:

Husrav Billimoria

M/A-COM Technology Solutions Inc.

978-656-2896

Husrav.Billimoria@macomtech.com

More from Sensors, Monitors & Transducers