Motion Sensors / Detectors / Transducers
Pulse Wire Sensor suits various industrial applications.
Press Release Summary: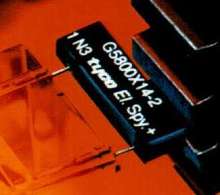 Product senses rotor positions, serves as revolution counter, and detects speed and rotation. Contactless sensor requires no external power to operate. Permanent-magnet design generates output voltages from 3.5-4 Vdc and requires no voltage amplification for switching electronics. Adaptable to custom applications, sensor is suitable for applications with drive frequencies of 0-10 kHz.
---
Original Press Release:

Pulse Wire Sensor Suits Many Industrial Applications


HARRISBURG, Pa., November 29 - Tyco Electronics recently added pulse wire sensors to its extensive line of passive electronics. Pulse wire sensors can sense rotor positions, serve as revolution counters and detect speed and rotation. The sensor is contactless and requires no external power to operate. Its permanent magnet design generates high output voltages from 3.5 to 4 VDC and requires no voltage amplification for switching electronics.

This product is suitable for applications in flow meters; especially where flow is remotely monitored and batteries are used to power the existing sensor system. With the pulse wire sensor, batteries and scarce system power are not required. The 3.5 to 4VDC generated by the sensor is compatible with integrated circuits that require similar power levels for processing.

Additionally, pulse wire sensors are suitable for motor commutation applications. Since pulse wire sensors have a precise and accurate trigger point, the point at which the pulse is emitted and sensor is activated, the sensor exhibits optimum repeatability. The repeatability of this sensor can help improve motor efficiency in brushless DC motor applications as compared to typical sensors which tend to trigger (process of sending a signal to energize the subsequent set of coil windings) a few degrees from a set-point, this in turn, causes a time delay and either wastes energy or slows down the rotor.

In addition to flow metering and motor applications, designers may use this product in a variety of automation, energy and other machinery applications where sensing of stroke movement, position, and rotation is required.

Pulse wire sensors from Tyco Electronics are suitable for applications with drive frequencies of zero Hz up to 10 kHz. They are highly adaptable to custom applications and have generous mounting tolerances for sensor position and air gap.

For more information on pulse wire sensors from Tyco Electronics, send e-mail to newproducts@tycoelectronics.com or call our technical support center at 1-800-522-6752.

ABOUT TYCO ELECTRONICS

Tyco Electronics is one of the major business units of Tyco International Ltd. (NYSE: TYC, LSE: TYI, BSX: TYC). Tyco Electronics is the world's largest passive electronic components manufacturer; a world leader in cutting-edge wireless, active fiber optic and complete power systems technologies; and is also rapidly developing extensive networking and building technology installation services. Tyco Electronics provides advanced technology products from over forty well-known and respected brands, including Agastat, Alcoswitch, AMP, AMP NETCONNECT, Buchanan, CII, CoEv, Critchley, Elcon, Elo TouchSystems, M/A-COM, Madison Cable, OEG, OneSource Building Technologies, Potter & Brumfield, Raychem, Schrack, Simel and TDI Batteries.

TYCO is a trademark.

More from Cleaning Products & Equipment