Pull-Open, Push-Close Latch suits furniture and enclosures.
Press Release Summary: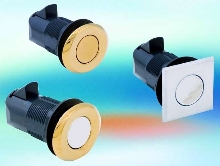 Featuring flush-mount design, Southco Point latch is available in curved and angular styles with chrome- and brass-plated finishes. Base latch mechanism is push-to-close design with retractable pull knob. By touching its surface, solid metal knob pops up to provide contoured grip for opening latch. Door can thereafter be slammed shut without harming latch. Consistent positioning is facilitated by one-piece polycarbonate body that aligns square to panel.
---
Original Press Release:
Flush-Mount Pull-to-Open Slam Latch adds Elegance and Functionality to Marine, Furniture and Display Enclosures
Concordville, PA, July 15, 2005 A new pull-to-open/push-to-close latch introduced by Southco provides fresh options for accessing and securing interior doors and drawers in environments where style and decor are important design considerations. This elegant flush mount design, designated the Southco "Point" latch, is available in both curved and angular styles with a range of chrome- and brass-plated finishes to complement a wide variety of application designs. The base latch mechanism is a push-to-close design with a retractable pull knob that stores in the flush position. With a simple touch on its surface, the solid metal knob pops up 17.6 mm (.69") above the latch flange to provide a contoured grip for opening the latch. A straight pull on that knob releases the latch pawl. Once the door is open, the knob can be pushed back down into the flush position. The door or drawer can be conveniently slammed shut without danger of harming the latch or enclosure surface, regardless of whether the latch knob is in the retracted or extended position. Once closed, the latched pawl stays firmly engaged and able to withstand a heavy load, regardless of the latch handle position. Flange and pushbutton knob surface options include bright chrome, satin chrome, and brass plated finishes. Both surfaces can be provided as the same finish or as complementary finishes that can be mixed and matched in any combination. Latches featuring an oval flange can be ordered with the pawl perpendicular to the short axis or to the long axis of the oval. The fully preassembled design of the Point latch enables quick, easy, and precise mounting that saves time and money for installers. Consistent positioning is simplified by the one-piece polycarbonate body that aligns square to the panel and attaches using a supplied mounting nut and lockwasher. The latch accommodates a wide range of door panel thicknesses, from 2 mm (0.1") to 25.4 mm (1.0"). Installation is quick and easy in either a round drilled hole with a drilled key slot, or in a double-D hole. The aesthetic flush-mount knob design and flange options of the Point latch create a subtle accent to natural woods and a variety of veneer or composite finishes used for cabinet surfaces in marine, recreational vehicle, furniture, exhibit, or kiosk applications. For more information, visit Southco's website at southco.com; e-mail their 24/7 customer service department at [email protected]; call 610-459-4000; or fax to 610-459-4012. Southco is a leading global provider of engineered access solutions, including locks, latches, captive fasteners, hinges, handles, and other accessories for applications in the marine, networking, telecommunications, computer, automotive, aerospace, mass transit, off-highway/construction, RV/caravan, industrial machinery and HVAC industries. Southco is strongly focused on customized engineering solutions and global support for its key customers. The company aspires to be a virtual engineering center for its customers' engineered-access solutions and is committed to providing outstanding quality and overall satisfaction. Southco's promise to its customers is to connect, create and innovate to provide the best solution for every access engineering problem. Southco Box 116 Concordville, PA 19331-0116 Tel: 610 459 4000 Fax: 610 459 4012 SOUTHCO CONTACT: Dale Clouser 610-361-6551 [email protected]