Pull Clamps lock and precisely locate workpieces.
Press Release Summary: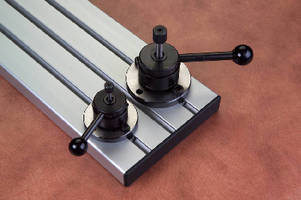 Suited for high volume, repetitive jobs, Imao® Pull Clamps provide workpiece locating using precision ground clamping pins in conjunction with fixture-mounted clamp mechanisms. Clamping bases come in 2 operating ranges, one for standard duty workloads with clamping forces of 200 and 550 lb, and heavy-duty series that provides 1,348 or 1,798 lb of clamping force. Each style of clamp features 3 hole locations for attaching handle, allowing user to select best clearances.
---
Original Press Release:

New Fixturing Pull Clamps Lock and Precisely Locate Workpieces



Ergonomics, precision and secure holding power...all available with the new, versatile lineup of Imao® pull clamps from Fixtureworks® (Fraser, MI), North American manufacturer and supplier of workholding technologies and machine tool components.

The pull clamps are designed to provide high-accuracy workpiece locating, utilizing precision ground clamping pins that are used in conjunction with the fixture-mounted clamp mechanisms. The clamp devices apply downward pressure on the pins via a quarter turn of the clamp's handle that actuates a spiral cam (ball and groove) design; this in turn applies downward pressure on the workpiece and secures it in position. The accuracy of the pins help to establish additional locating precision beyond that provided by the fixture, while the ergonomic operation of the clamping base and easy loading of parts make these clamping systems ideal for high volume, repetitive jobs.

The clamping bases are offered in two operating ranges, one for standard duty work loads that includes two versions with camping forces of 200 and 550 lbs., respectively, and a heavy duty series with two sizes that provide 1,348 or 1,798 lbs of clamping force. Each style of clamp features three different hole locations for attaching the handle, allowing users to best select optional clearances for safe, unobstructed operation. The clamp bases include four drilled and tapped holes for fastening to fixtures, as well as two locating holes for increased precision.

To complement each size and style of Imao pull clamp base units and to broaden their applications usage, Fixtureworks also offers a wide range of clamping pins, clamping screws and mounting plates for use with the clamps. Clamping pins are provided with precision ground diameters to fit thru holes in workpieces and allow for easy modification by users to accommodate actual thickness of a workpiece. The clamping screws permit the pin to be attached to the bottom of the workpiece via tapped holes in the part, eliminating obstructions that would interfere with machining operations.

The mounting plates allow clamp bases to be first attached to the plate, and then the plate is top-mounted to the fixture base, affording easy mounting, height adjustment, fastening, and clamp removal/replacement.

All components (clamps, locating pins and screws, plates) of the pull clamp systems are manufactured from alloy steel, heat treated, and given a black oxide finish. Handle knobs are made from tough plastic resins.

In addition to Imao Pull Clamp systems, Fixtureworks also offers Imao's new mini clamps, supports and stops, T-nuts, sliding mounts, springs, grid plates and blocks. Among Fixtureworks other 20,000-plus items are Fairlane® Products' grippers, rest pads, Swivots® swivel/pivoting positioning components, Quick Release ball-lock pins, rollers and bumpers; Kipp® spring plungers, rest and riser pads, tension levers and torque handles, knurled nuts, ball knobs, and handwheels; OK-Vise® single and double wedge clamp designs; and Modern Industries mPower(TM) product line which includes quick change precision locating and mounting systems and modular tooling, plates and columns

Fixtureworks® product lineup includes precision pull clamps from Imao®-standard and heavy duty fixturing clamp systems ideal for high-volume, repetitive applications, that provide secure downward pressures on workpieces and generate precision locating tolerances for enhanced part quality.