PTFE Hose handles temperatures from -65 to +450°F.
Press Release Summary: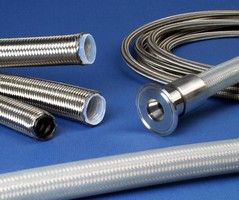 APFOS SS overbraided PTFE hose is constructed of virgin PTFE core, which provides non-restrictive flow and inert surface to transport critical fluids, overbraided with series 300 SS wire. Product is offered with white or conductive black PTFE fluoropolymer cores in smooth or convoluted styles, as well as silicone jacketed hose available in smooth or convoluted white cores. Hose sizes range from 1/4-4 in. nominal ID, depending on style.
---
Original Press Release:

Stainless-Steel-Overbraided PTFE Hose Stocked by AdvantaPure® in Six Styles



Both Smooth & Convoluted Cores Available

Southampton, PA - Now available from AdvantaPure is stainless-steel-overbraided PTFE hose in six variations. Called APFOS, the hose offers the purity of PTFE fluoropolymer with the durability and enhanced pressure carrying capabilities of stainless steel. APFOS is used for applications in the chemical, food and beverage, pharmaceutical, and other high-purity industries.

APFOS is constructed of a virgin PTFE core overbraided with series 300 stainless steel wire. The core provides non-restrictive flow and an inert surface to transport critical fluids. APFOS handles temperatures ranging from -65°F to 450°F; -54°C to 232°C. The steel reinforcement permits higher pressure uses, improves flexibility, reduces the possibility of kinking, and protects the core.

Stock offerings consist of white or conductive black PTFE fluoropolymer cores in smooth or convoluted styles. Smooth core hose provides maximum flow, while convoluted offers enhanced flexibility. Silicone jacketed APFOS (APFOSJ) is available in white core in either smooth or convoluted core (conductive black is available through custom order). The silicone offers a degree of heat protection, making the hose easier to handle in higher temperature applications. It also provides a smooth exterior to eliminate particle entrapment and allows the surface to be wiped cleaned. In addition, the silicone jacket presents a suitable surface for AdvantaLabel®, AdvantaPure's silicone label attachment system.

APFOS sizes range from 1/4" through 4" nominal I.D., depending on style. Custom options include hose assemblies with crimped-on or flare-through ends, non-stock sizes, special packaging, and identification solutions. Rubber-covered FEP fluoropolymer hose is stocked as well.

For more information on APFOS and APFOSJ hose, contact the team at AdvantaPure, 145 James Way, Southampton, PA 18966; phone 888-755-4370 or 215-526-2151; fax 888-258-4293 or 215-526-2167; e-mail: sales@advantapure.com; web page: http://www.advantapure.com/apfos-ptfe-hose.htm.

About AdvantaPure and NewAge® Industries
AdvantaPure, a division of NewAge Industries, specializes in ultra-clean products for the pharmaceutical, biomedical, food, beverage, chemical, and cosmetic industries. All products are manufactured, stored, and shipped using the cleanest methods possible to ensure unsurpassed product purity.

In business since 1954, NewAge Industries manufactures and fabricates thermoplastic and thermoset tubing and hose. The company offers one of the broadest product lines of tubing, hose, and fittings in the U.S., and its custom extrusion and fabrication services are unrivaled. NewAge Industries maintains a large inventory and prides itself on same-day shipment of 98% of orders for its core product lines. In 2006, NewAge initiated an ESOP (Employee Stock Ownership Plan) for the benefit of both its employees and customers.

AdvantaPure®, AdvantaLabel®, and NewAge® are trademarks of NewAge® Industries, Inc.

More from Software