Prototype and Repair System creates shaft collars.
Press Release Summary: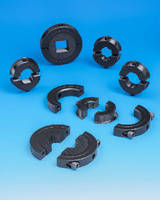 Featuring precision machined shaft collar masters which accept 3-D printed inserts, SPARC Stafford Prototype and Repair Collar System lets users create working prototypes of special-purposed shaft collars within hours. Users can create custom-designed inserts with bores to fit virtually any type of shaft and can include holes, bosses, slots, tabs, hubs, and pulleys. Supplied in steel, stainless steel, or aluminum, masters come in 3 sizes to accommodate shafts from 1/8–3 in. O.D.
---
Original Press Release:

Stafford Manufacturing Corp. Introduces Prototype and Repair Collar System



Wilmington, MA- Stafford Manufacturing Corp. has introduced SPARC, a rapid prototype and repair collar system, which lets users create their own working prototypes of special-purposed shaft collars within a few hours.



The SPARC (Stafford Prototype and Repair Collar) system features precision machined shaft collar masters which are available from stock and accept 3-D printed inserts.  Combining the clamping strength of a conventional machined shaft collar with the flexibility of unlimited insert configurations, users can create custom-designed inserts with bores to fit virtually any type of shaft and can include holes, bosses, slots, tabs, hubs, pulleys, and other features.



The 3-D printed inserts in the SPARC (Stafford Prototype and Repair Collar) system can be either user-defined or selected from a library of designs offered free from Stafford.  The printing can be done free by the user or from Stafford for a fee and the inserts are designed to mate securely with the master to create a unified working part.  Supplied in steel, stainless steel, or aluminum, masters come in three sizes to accommodate shafts from 1/8" to 3" O.D.



The SPARC (Stafford Prototype and Repair Collar) system design files for basic printed inserts are free and machined masters are priced from $11.25 (list).



For more information contact:

Stafford Manufacturing Corp.

Jim Swiezynski, Technical Director

P.O. Box 277

North Reading, MA 01864-0277

(800) 695-5551  FAX (978) 657-4731

e-mail: jswiezynski@staffordmfg.com

deep link: www.staffordmfg.com/New-Products/Stafford-Prototype-and-Repair-Collar-System

www.staffordmfg.com

                                                  

                                              





More from Communication Systems & Equipment