Protocol Decoders simplify custom protocol designing, debugging.
Press Release Summary: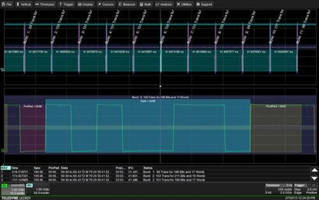 Supporting range of oscilloscope platforms, Manchester and NRZ (non-return-to-zero) configurable protocol decoders help design and debug custom protocols by providing flexibility in terms of physical layer characteristics, protocol word and frame structure, as well as other parameters. Users may specify bit rates from 10 bits/sec to 10 Gbps, and decoded information is displayed with color-coded overlay that expands/contracts as user adjusts oscilloscope timebase or zooms in on waveform.
---
Original Press Release:

Manchester and NRZ Configurable Protocol Decoders Simplify Design and Debug of Custom Protocols



Industry-First Configurable Decoders Unravel Complex Protocols



CHESTNUT RIDGE, N.Y. -- Teledyne LeCroy Corporation today announced the industry's first Manchester and NRZ (non-return-to-zero) configurable protocol decoders for a wide range of oscilloscope platforms. The decoders enable users to specify a broad range of physical layer characteristics for Manchester- or NRZ-encoded signals. The decoders define the grouping of bits into words, and words into frames, which makes short work of analysis for custom and/or proprietary protocols based on those generic encoding schemes. Decoded information is then shown in a color-coded overlay directly on top of the physical layer waveform.



Flexible, User-Definable Protocol Decoding



Many of today's data-communication protocols are built on Manchester or NRZ encoding. Protocols like this range from specialized buses such as Digital Addressable Lighting Interface (DALI) for control of building lighting and the Peripheral Sensor Interface 5 (PSI5) used to connect sensors to controllers in automotive applications, to proprietary, custom buses used for non-standardized applications. In all of these cases, basic Manchester and NRZ schemes are modified to create the more complex, specialized protocols. Designers around the globe are developing and debugging systems with these protocols and looking for bus analysis tools to simplify the process.



Teledyne LeCroy's Manchester and NRZ protocol decoders aid in the process of designing and debugging such custom protocols by providing broad flexibility in terms of physical layer characteristics, protocol word and frame structure as well as other parameters. Users may specify bit rates from 10 bits/s to 10 Gbits/s. Idle states, sync bits, header and footer information can all be configured to decode custom preambles or CRC details. Decoding is highly flexible: data mode can be in bits or words; viewing in hex, ASCII, or decimal; and bit order may be either LSB or MSB. Decoded information is displayed with a color-coded overlay which expands or contracts as the user adjusts the oscilloscope timebase or zooms in on the waveform for more details.



Powerful search capabilities allow users to quickly search long captures of decoded Manchester and NRZ waveforms for specific bus details such as data, sync or interframe gap. Decoded data is conveniently displayed in an interactive table. Clicking on any line in the table opens a zoomed view of that instance in the waveform.



Pricing



Teledyne LeCroy's Manchester and NRZ protocol decode software options are both priced at $1,450. For further information, engineers and technicians can contact Teledyne LeCroy at 1-800-5LeCroy (1-800-553-2769) or visit www.teledynelecroy.com



About Teledyne LeCroy



Teledyne LeCroy is a leading manufacturer of advanced test instruments that drive product innovation by quickly measuring, analyzing, and verifying complex electronic signals. The Company offers high-performance oscilloscopes, protocol analyzers, and global communications protocol test solutions used by design engineers in the computer, semiconductor and consumer electronics, data storage, automotive and industrial, military and aerospace, and telecommunication markets. Teledyne LeCroy's 49-year heritage of technical innovation is the foundation for its recognized leadership in "WaveShape Analysis"--capturing, viewing, and measuring the high-speed signals that drive today's information and communications technologies. Teledyne LeCroy is headquartered in Chestnut Ridge, New York. Company information is available at teledynelecroy.com.



© 2013 by Teledyne LeCroy. All rights reserved. Specifications are subject to change without notice.



Media contact: Kathleen Woods, Teledyne LeCroy (845) 578-4455



Customer contact: Teledyne LeCroy Customer Care Center (800) 553-2769



Website: teledynelecroy.com

More from Electronic Components & Devices