Progressive Scan Cameras has programmable pixel clock.
Press Release Summary: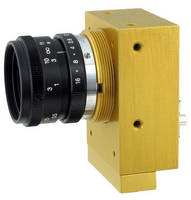 SILICON VIDEO®10C6 (color) and 10M6 (monochrome) offer 10 MP progressive scan images with resolution of 3,840 x 2,764 pixels and 12 bits per pixel. Programmable area of interest, along with column and row skip modes and binning, allows resolution reduction for higher frame rates. Other features include asynchronous/triggered capture and programmable pixel clock. In addition to control for all camera operations, included software can be used for image capture to disk and image processing.
---
Original Press Release:

10 Megapixel Camera



The SILICON VIDEO®10C6 color and 10M6 monochrome cameras have 10 megapixel progressive scan images with a resolution of 3840 x 2764 pixels and 12 bits per pixel. Programmable area of interest allow resolution to be reduced for higher frame rates as do column and row skip modes and binning. Asynchronous capture is available for triggered capture. Programmable pixel allows selecting a slower clock for longer exposures. The combination of programmable pixel clock and area of interest allow many frame rates for image capture.

The camera has low noise digital signaling, small size, and no latency issues as there is no memory in the camera. EPIX' software provides convenient control of all camera operations and can be used for image capture to disk and for image processing.

Link to product page: http://www.epixinc.com/products/sv10c6.htm

PRODUCT INFORMATION
Charles Dijak
EPIX, Inc.
381 Lexington Drive
Buffalo Grove, IL 60089
Tel: 847.465.1818
Fax: 847.465.1919
cad@epixinc.com
www.epixinc.com


More from Software