Motion Sensors / Detectors / Transducers
Programmable Motion Control features 2 signal set points.
Press Release Summary: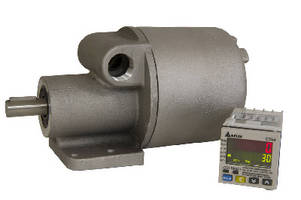 By continuously monitoring rotary speed, MSD-800 protects indoor/outdoor rotating equipment from damage. Unit alerts operator of change in speed by sending signal to control unit which can sound alarm and/or shutdown equipment completely. Installed remotely, control unit can be programmed to indicate 2 under-speed points or 2 over-speed points, or 1 of each. Speed sensor, installed directly to shaft of rotating equipment, is enclosed in weatherproof and dust-tight cast aluminum housing.
---
Original Press Release:

New Programmable Motion Control with Two Signal Set Points



The new Model MSD-800 series motion sensing controls offer affordable and reliable protection of indoor and outdoor rotating equipment such as screw conveyors, belt conveyor pulleys, rotary feeders and bucket elevators from costly damage by continuously monitoring rotary speed.  The Model MSD alerts the operator of a change in speed by sending a signal to the control unit which can be used to sound an alarm and/or shutdown the equipment completely.  By monitoring speed you can greatly reduce system and equipment downtime by fixing malfunctions such as broken drive gears or belts, over-worked motors, belt overload and other problems before serious damage occurs.



The Model MSD is comprised of two different components, a control unit and a speed sensor. The Model MSD-800 control unit has a simple set up menu that can be programmed to indicate two under-speed points or two over-speed points, or one of each. The control unit acts as a digital tachometer that constantly displays the actual rotary speed of the equipment being monitored. The control unit is installed remotely in a control panel where it is free from dust, dirt and vibration and allows the operator to monitor equipment from one central location.



The Model MSD-1 speed sensor, which installs directly to the shaft of the rotating equipment to be monitored, is enclosed in a rugged cast aluminum housing that is designed to withstand harsh environments. The sensor detects motion by means of a precision metal disc with slots on its periphery generating electronic pulses as the disc rotates past an infra-red light source. These pulses are transmitted to the MSD-800 control unit where the signal is analyzed and the relays are activated or deactivated at preset signal speeds.   The sensor enclosure is weatherproof, dust-tight and meets NEMA Type 3S, 4, 4X classifications. For hazardous environments, explosion proof sensors are available that meet NEMA Type 7, Class I Groups C and D and NEMA Type 9, Class II, Groups F and G classifications.



For more information on the new Model MSD-800 series or other products manufactured by Conveyor Components Company, please visit www.conveyorcomponents.com or contact one of our sales representatives at 810-679-4211 or email us at info@conveyorcomponents.com.

More from Material Processing