Programmable Logic Device offers extended functionality.
Press Release Summary: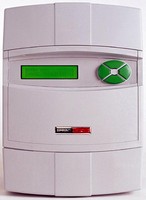 Used by system integrators, Programmable Logic Arithmetic unit (PLA) offers functionalities for diverse applications and motion tasks. Stand-alone unit can compliment and enhance any analog or digital drives system. Via range of configurable I/O to internal application blocks, PLA enables user to define control strategy to meet unique demands of process or application at hand. Connectivity is fostered by RS232 port and field bus communication card compatibility.
---
Original Press Release:

PLA Applications Module From Sprint Electric - Digital Drive Can Reduce Need for PLC or PC Based Systems



Arundel, UK, March 2008. Sprint Electric offers a Programmable Logic Arithmetic unit (PLA) with extended functionalities for diverse applications and motion tasks. The PLA is a stand-alone applications module that can compliment and enhance any analogue or digital drives system, simplify system design and reduce or eliminate the need for PLC or PC based systems.

Designed primarily for use by system integrators, the PLA offers a powerful and flexible method of processing analogue and digital signals via easy to use configurable software blocks. Via its range of configurable inputs and outputs to the internal application blocks, the PLA enables the user to define a control strategy to exactly meet the demands of the process or application. The block diagram created is flexible and has a unique "Configuration Checker" detecting shorts within the user-defined connections.

The standard application blocks in the PLA include diameter calculator, taper tension calculator, torque compensation for inertia and friction, motorised pot simulator with power loss memory, two high performance PIDs with gain profiling, two summers with inverting scaling clamping and hysterisis, two filters with precision time constants from milliseconds to 30 seconds, delay timer with roll-over facility, linear or 'S' ramp with independent up-down rates for forward and reverse, four comparators with programmable hysterisis and aperture option, eight multifunction blocks, and many more.

All the facilities can be programmed and interconnected with each other and/or the extensive input/output facilities in the PLA. All source and target parameters are described in English or selectable other languages. Additional input/output facilities can be programmed and monitored in engineering units using the diagnostic facilities available within the PLA.

The PLA measures 289 x 216 x 110 mm. The module includes Sprint Electrics PL Pilot configuration and monitoring software complete with PC to PLA programming lead. As a Windows based package, the software requires no previous knowledge of any programming language. An RS232 port enables the PLA to communicate to remote equipment such as other PLAs, drives, operator interfaces and other devices. Further connectivity can be achieved for the more demanding applications by the addition of further field bus communication cards including Profibus and DeviceNet.

Direct link to detailed product data: www.sprint-electric.com/pla.html

Pictures: The PLA applications module from Sprint Electric.

Company information:
Sprint Electric Ltd., based in Arundel, West Sussex and founded in 1987, offers a wide range of DC motor control, with over fifty models covering both single phase and three phase, regenerative and non-regenerative applications. From low voltage servo performance controller to highly sophisticated fully digital three phase DC variable speed drive of many hundreds of amps, Sprint Electric products meet the demands of countless industrial applications around the globe. Sprint Electric is committed to providing innovative products backed up by a high level of customer service to the world-wide industrial market. In North America, Sprint Electric products are distributed through Bardac in the USA, and through MDA Controls in Canada.

For more information, please contact:
Sprint Electric Limited
Mr. Gary Keen
Rudford Industrial Estate
Ford, Arundel, West Sussex
BN18 0BD, United Kingdom
Tel: 0044 (0)1903 730000
Fax: 0044 (0)1903 730893
E-mail: gary@sprint-electric.com
Internet: www.sprint-electric.com

Distributors in North America:

USA:
Bardac Corporation
40 Log Canoe Circle
Stevensville, Maryland 21666
Tel: 888 604 3400
E-mail: info@bardac.com
Internet: www.bardac.com

Canada:
MDA Controls Inc.
785 Pacific Road Unit 8
Oakville, Ontario L6L 6M3
Tel: 905 469 6432
Fax: 905 469 6433
E-mail: info@mdacontrols.com
Internet: www.mdacontrols.com

PR Contact:
TPR International
Ms. Christiane Tupac-Yupanqui
Hermann-Lans-Weg 57
D-69207 Sandhausen, Germany
Tel: 0049 6224 172751
Fax: 0049 6224 172752
E-mail: c.tupac@tradepressrelations.com
Internet: www.tradepressrelations.com

TPR International would be grateful for a sample copy of the publication with this article.

Christiane Tupac-Yupanqui
TPR International
Trade Press Relations & Translation Services

Hermann-Lans-Wega 57
D-69207 Sandhausen
Germany
Phone 0049 (0)6224 172751
Fax 0049 (0)6224 172752
c.tupac@web.de
c.tupac@tradepressrelations.com
www.tradepressrelations.com

Related