Programmable Logic Controllers
Programmable Logic Controller is based on PC architecture.
Press Release Summary: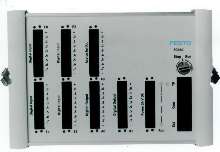 Type IPC FEC Standard PLC features built-in Ethernet interface and web server technology. Front panel plug-in sensor/actuator wire connector eliminates need for terminal strips. Three-wire version of connector has internally connected bridges for 0 and 24 Vdc. Controller includes 8/16 transistor type digital outputs and 16/32 digital inputs including 2 high-speed units for PNP sensors. FST software offers STEP operation for programming sequences.
---
Original Press Release:

New "IPC-FEC Standard Controller"


Festo Corporation, a global leader in industrial automation solutions, is pleased to announce the introduction of our latest programmable logic controllers, Type IPC FEC Standard PLC, offering a lower cost alternative to comparitable models. The IPC FEC's versatile design is based on PC architecture, with a built-in Ethernet interface and web server technology offering the flexibility of a programmable logic controller and the
power of an industrial PC; allowing expansions, modifications and adaptions that would be unthinkable with traditional systems. The IPC FEC Standard is a "standard" mini controller designed to make automation solutions smaller, simpler and faster.

Super-fast installation in even less space... the slimmer design means smaller cabinets and an innovative new installation concept, the front panel plug-in sensor/ actuator wire connector (SAC), eliminates the need for terminal strips, saving you both time and space.

The SAC connector combines three functions in a very compact design:
o Connection of inputs, outputs and the power supply
o Status signal by means of an LED
o Replaces terminal strip for sensors and actuators

The three-wire version of the connector has internally connected bridges for 0 V and 24 V DC. This allows for any sensor (up to 3 wires) or actuator (up to the maximum permissible output current) to feed directly into the connector, saving up to 50% space over traditional wiring.

Fast programming... with the easy-to-use FST Software PLC programming language that operates "the way you think": IF... THEN... OTHERWISE... In addition, FST offers STEP operation for programming sequences. With the aid of basic arithmetic functions, calculations can be carried out quickly and easily. FST has an integrated PID controller module for closed-loop control functions. Plus, the IPC FEC can also be programmed via Ethernet or a web server.

Easy networking... even as a mini controller, the IPC FEC Standard can be used as a full- feature network component, with facilities for communication between controllers, programming via Ethernet and TCP/IP and operator control using an intranet or an internet browser.

Extremely practical... analog inputs and outputs (3 AD/1 DA) for air flow measurement/monitoring, air-consumption measurement, temperature measurement/monitoring, length/displacement measurement, pressure/force measurement and, last but not least, triggering dynamically controlled proportional valves.

Systematically more flexible... these heavy-duty miniature controllers with analog-value processing, for measured value acquisition offer multifunctional sensor/actuator connectors, optionally with integrated 3-row terminals, allowing for direct
connection of sensors.

Festo's FST4 - A unique, easy to use programming software, which allows both newcomers and long-time programmers to solve both simple and complex tasks.
o Program as you think... with simple IF THEN statements
o Program with steps
o Programming with tasks
o Programming subroutines
o Project-Tree helps to keep of your project
o The administration of versions
o The driver concept
o The command interpreter
o Ethernet and TCP/IP
o WEB Server

Easy Control - Software Tool for Festo Controllers Makes Programming a thing of the past
With EasyControl, simple handling solutions, previously subject to costly programming are now a thing of the past. Configuring is the order of the day simply via Palm Top teaching. EasyControl reduces expenditure to the necessary minimum. Whenever handling devices are to be moved step by step, configuring is the answer. Unique worldwide, productive worldwide, applicable worldwide; and free of charge exclusively
for users of Festo IPC FECO-mini controllers.

Simple and innovative: Easy Control software for graphic configuration. Saves time: simple initial start-up, teach-in instead of programming, rapid troubleshooting, easy visualization and graphic machine layout - and then keep track of how the system works. And all of this in a Palm-Top, from an individual system to a complete network.

IPC FEC Advantages:
o Space-saving design
o Innovative sensor/actuator connector
o Push-in wire connectors
o Operates on DC power
o 16/32digital inputs (24 V DC), which includes two high-speed units (Max. 2Hz) for PNP sensors
o Optionally: 3 analog inputs / 1 analog output
o 8/16 transistor type digital outputs each
o Power supply
o Rotary RUN/STOP switch
o WIN FST programming
o 2 serial interfaces, option of Ethernet connectivity
o Web server technology

Festo Your Partner for Industrial Automation
As a privately held, financially strong company in business for over 75 years, Festo has the resources and application experience necessary to work with you as a long term partner to provide cost-effective automation solutions for industrial applications.

Festo offers state-of-art automation technology that offers the speed, accuracy and reliability required in today's manufacturing environments. As an ISO 9001 certified company Festo's Corporate Mission is to enhance the business success of our customers by providing innovative products and services, including:
o Complete, custom engineered control and handling systems
o Overall cost reduction services; such as global standardization programs, engineering services, on-site stock review, and e-commerce
o In house training and education programs
o Global service and support in over 180 countries

Over a period of decades and around the world, Festo has become known as the industry innovation leader by working with leading manufacturing companies to develop solutions for the most challenging applications.

For more information on our products and services please visit the What's New section of our website or contact a local Festo Sales Office by calling 1-800-99-Festo.

More from Materials