Programmable Ethernet Switches are embedded with Packet Trakker™ technology.
Press Release Summary: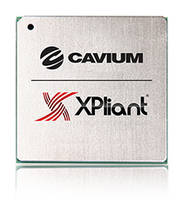 XPliant® Programmable Ethernet Switches are available in XP60 (10GbE) and XP70 (25GbE) models. The XP60 family switches are designed for 1GbE, 2.5GbE, 10GbE access markets and can scale from 280Gbps to 720Gbps. Optimized for 10GbE/25GbE top of rack systems with 100GbE uplinks, XP70 family Ethernet switches can scale from 1Tbps to 1.8Tbps. Unit features uniport architecture for supporting 1G, 10G, 25G, 40G, 50G, and 100G MAC speeds independently per port.
---
Original Press Release:
Cavium Expands XPliant® Product Portfolio with 10GbE and 25GbE Optimized Programmable Switch Devices
XP70 family addresses highest port count segment of data center switch market
Cavium, Inc. (NASDAQ: CAVM), a leading provider of semiconductor products that enable secure and intelligent processing for enterprise, data center, cloud, wired and wireless networking, announced the availability of the new XP60 and XP70 families of 10GbE/25GbE optimized programmable Ethernet switches. Targeted at the largest segment of the data center market, the XP70 family of programmable Ethernet switch devices scale from 1Tbps to 1.8Tbps and provides cost-effective seamless 1GBASE-T to 10GBASE-T and 10GbE to 25GbE access connectivity upgrades for enterprise, data center, and carrier networks with support for 40GbE/100GbE uplink connectivity. Furthermore, the XP60 family brings programmable Ethernet switching capabilities to the campus, embedded, and carrier access markets with devices that scale from 280Gbps to 720Gbps. The new XP60 and XP70 family, combined with the production qualified XP80 family of products now extends Cavium's XPliant programmable architecture from 3.2Tbps down to 280Gbps.
According to Dell 'Oro, more than 50% of all servers will be 10GE based by end of 2017, with 10GBase-T shipments growing the fastest and eventually overtaking SFP+ shipments by 2019. Dell'Oro attributes this growth, in part, to the fact that twisted-pair cable has long remained a popular choice for connectivity due to its low cost and ability to terminate exact cable lengths in the field. Additionally, these installed cable plants support seamless upgrades from 1GbE to 10GbE, giving the data center operators a simple choice for scaling their networks to support LAN/SAN consolidation and virtualization.
Today 100GbE is emerging as the optimal choice for the core network connectivity, for both intra- and inter-data center applications due to optical component and OEM "system level" prices that have fallen below the 40GbE benchmark, which has been considered and deployed as the "next step up" from 10GbE.
In this environment, the XP60 and XP70 families achieve the ideal mix of price, performance, and power while adding telemetry, and programmability to next-generation switching solutions.
The XP60 family is cost and power optimized for 1GbE, 2.5GbE, and 10GbE access markets.
The XP70 family is cost and power optimized for 10GbE/25GbE Top of Rack systems with 100GbE uplinks.
Integrated Packet Trakker™ technology delivers a wealth of visibility and telemetry to solve the most intriguing diagnostic issues.
Fully shared centralized packet buffer.
Highly scalable network policy engine brings enterprise class security to hybrid cloud and cloud networks.
Flexible Uniport architecture supports 1G, 10G, 25G, 40G, 50G, and 100G MAC speeds independently per port.
Advanced traffic management engine and PFC architecture supports the most demanding mix of RoCE, iWARP, NVMe, and proprietary lossless applications.
Finally, the XP60 and XP70 families leverage the same programmable engines as the field-proven, volume shipping XP80 family. This enables transparent software migration for current XP80 customers, as well as use of the entire XPliant suite of software tools.
Analyst Quotes
"There still exists a long life for 10GbE, in particular 10GBASE-T, in the data center," said Seamus Crehan, president of Crehan Research. "Furthermore, we expect the majority of new data center core upgrades to be implemented with 100GbE given its attractive pricing coupled with the increase in data center network traffic."
"Our research finds that the upgrade cycle from a 40G to 100G core is in full effect, but the solutions for 25Gbps access are still in the early adoption stage," said Sameh Boujelbene, Senior Director at Dell Oro Group. "We expect demand for 10G access to remain healthy for years to come."
"Hybrid cloud is an important architecture for enterprises shifting workloads to the cloud, and programmable silicon covering 10/25/100GE speeds providing network traffic telemetry across hybrid cloud will be an imperative for achieving a high-quality user experience," said Cliff Grossner, Ph.D., senior research director and advisor, Cloud and Data Center Research Practice, IHS Markit Technology. In a recent IHS Markit report, 54% of respondents indicated they would have hybrid clouds deployed by 2018, which will drive the need for 10/25/100GE programmable silicon."
The XP60 and XP70 families are now sampling to customers. Production qualified parts will be available this quarter.
About Cavium
Cavium, Inc. (NASDAQ: CAVM) offers a broad portfolio of infrastructure solutions for compute, security, storage, switching, connectivity and baseband processing. Cavium's highly integrated multi-core SoC products deliver software compatible solutions across low to high performance points enabling secure and intelligent functionality in Enterprise, Data center and Service Provider Equipment. Cavium processors and solutions are supported by an extensive ecosystem of operating systems, tools, application stacks, hardware reference designs and other products. Cavium is headquartered in San Jose, CA with design centers in California, Massachusetts, India, Israel, China and Taiwan.
CONTACT:
Angel Atondo,
Sr. Marketing Communications Manager,
+1 408-943-7417,