Processor Module handles compute-intensive applications.
Press Release Summary: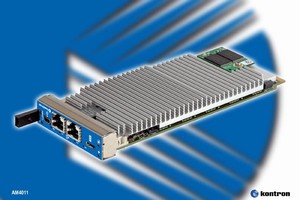 Including up to 4 Gb of memory (DDR2) with ECC running at 400 MHz and 8 Gb of Flash memory via onboard USB 2.0 Flash controller, AM4011 AdvancedMC(TM) processor module may be used as main controller, data server, traffic processor, or media processor in any single-width MicroTCA(TM) platform. Available with LV Intel® Core(TM) 2 Duo processor, it features 4 GbE interfaces, and Module Management Controller that supports defined subset of IPMI commands and PICMG® (ATCA/AMC) command extensions.
---
Original Press Release:

Kontron AdvancedMC(TM) Processor Modules for Multiple Markets



The Kontron AM4011 is the latest member of the versatile Gigabit and PCIe family of AdvancedMC(TM) processor modules

Eching, Germany, September 2, 2008 - Today, Kontron introduced the Kontron AM4011, the latest addition to the company's expanding portfolio of AdvancedMC(TM) processor modules. The Kontron AM4011 represents Kontron's strength in developing leading-edge processor boards for use in multiple markets that require multi-core performance and high data throughput, plus PCI Express, Gigabit Ethernet and SATA connectivity via the backplane.

The Kontron AM4011 AdvancedMC(TM) processor module is available with the LV Intel® Core(TM) 2 Duo processor representing substantial processing power and maximum MIPS per Watt for both AdvancedTCA® and MicroTCA(TM) system designs.

Designed for compute-intensive applications the versatile Kontron AM4011 may be used as a main controller, data server, traffic processor or media processor in any single-width MicroTCA(TM) platform deployed for applications in the 3GSM, triple play, military, police, government, defense, transportation and avionics market segments. Carrier-grade telecommunications, as well as image and video processing applications in the medical, industrial quality management and simulation markets also benefit from the processing power and communication capabilities of the Kontron AM4011 AdvancedMC(TM) processor module.

For AdvancedTCA® platform designs, the Kontron AM4011 complements the Kontron AT890x switch blade used as a field-replaceable, hot-swappable system controller with connectivity to the control plane. The module's 2 GbE front access port enables easy access for system control functions since Port 0 and 1 provide access to the Base Interface for control plane access.

The AMC.1/.2/.3-compliant Kontron AM4011 AdvancedMC(TM) processor module has full hot-swap capabilities for replacing, monitoring and controlling the module without the need to shut down the AdvancedTCA® carrier board or the MicroTCA(TM) system. A dedicated Module Management Controller (MMC) is used to manage the board and to support a defined subset of IPMI (Intelligent Platform Management Interface) commands and PICMG® (ATCA/AMC) command extensions, which enable operators to detect and eliminate faults faster at the module level. IPMI enhances the board's availability while reducing the overall operating costs and mean-time-to-repair.

Versatile switch fabric
The Kontron AM4011 AdvancedMC(TM) processor module is highly integrated and available in both mid-size and full-size form factors. It also includes up to 4 GB of memory (DDR2) with ECC running at 400 MHz, plus up to 8 GB of Flash memory via an onboard USB 2.0 Flash controller. Four GbE interfaces - two available on the front panel, two in accordance with AMC.2 - provide comprehensive networking capabilities. Furthermore, the Kontron AM4011 offers connectivity in accordance with AMC.1 (PCIe x4) and AMC.3 (2x SATA).

Intel® Core(TM) 2 Duo processor
The advanced Intel® Core(TM) 2 Duo processor, in tandem with the Intel® 3100 server-class chipset, takes full advantage of processor performance and the high-speed FSB. The Intel® 3100 chipset is a space-saving, two-in-one solution that combines both the Intel® Memory Controller (E7320/E7520) and the Intel® I/O Hub Controller (6300ESB).

The Kontron AM4011 AdvancedMC(TM) processor module is available now.

More information about the Kontron AM4011: www.kontron.com/AM4011
More information about AdvancedMC(TM) modules: www.kontron.com/AdvancedMC
More information about MicroTCA(TM): www.kontron.com/MicroTCA

About Kontron
Kontron designs and manufactures standard-based and custom embedded and communications solutions for OEMs, systems integrators, and application providers in a variety of markets. Kontron engineering and manufacturing facilities, located throughout Europe, North America, and Asia-Pacific, work together with streamlined global sales and support services to help customers reduce their time-to-market and gain a competitive advantage. Kontron's diverse product portfolio includes: boards and mezzanines, Computer-on-Modules, HMIs and displays, systems, and custom capabilities. Kontron is a Premier member of the Intel® Embedded and Communications Alliance. The company is a recent three-time VDC Platinum vendor for Embedded Computer Boards. Kontron is listed on the German TecDAX stock exchange under the symbol "KBC".

For more information, please visit: www.kontron.com.

For more information:
Reader contact EMEA:
Kontron AG
Oskar-von-Miller-Strasse 1
85386 Eching/Munich
Germany
Tel: +49 (8165) 77-777
Fax: +49 (8165) 77-279
http://www.kontron.com
sales@kontron.com

Reader contact Americas:
Kontron America Inc.
14118 Stowe Dr
Poway, CA 92064-7147
United States of America
Tel: +1 (888)-294-4558
Fax: +1 (858) 677-0898
sales@us.kontron.com
www.kontron.com

More from Software