Press Production Unit offers interchangeable furnaces.
Press Release Summary: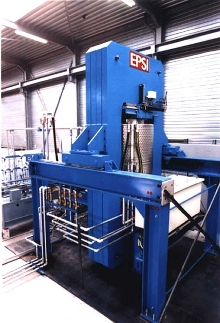 Hot Isostatic Press Production Unit (HIP) applies uniform pressure at elevated temperatures to all surfaces, making it suitable for castings, ceramics, plastics, automotive, and aerospace industries. Inside diameters range from 50 to 1,500 mm. Units contain pressures from vacuum to 3,000 bar and temperatures up to 4,000 deg F. They offer cascade control and fast cooling or uniform fast cooling to optimize heat/cooling rates.
---
Original Press Release:
Engineered Pressure Systems, Inc. Offers Hot Isostatic Press (HIP) Production Unit For Metallic and Non-Metallic Materials

Engineered Pressure Systems, Inc. (EPSI), a world leader in custom-engineered high-pressure solutions, offers its Hot Isostatic Press Production Unit (HIP). Designed to uniformly apply accurate pressure at elevated temperatures to all surfaces, EPSI's HIP is ideal for the castings, ceramics, plastics, automotive, and aerospace industries. The HIP System densifies parts to heal casting defects and voids, bond similar or dissimilar materials and to form net or near-net shapes from metal, ceramic, cermet and graphic powders. EPSI's HIP is built with inside diameters of 50 to 1,500mm and contains pressures from vacuum to 3,000 bar and temperatures as high as 4,000 deg F.

EPSI's HIP is available in a variety of sizes, from pilot to large production units, and can be provided in sizes to 1650 mm (65" hot zone). The HIP features interchangeable furnaces for various temperatures and atmospheres to meet the customer's production requirements, including oxygen resistant, molybdenum, and graphite heating elements. EPSI's HIP also offers cascade control, fast cooling or uniform fast cooling to optimize heat/cooling rates, enhanced heat treatment possibilities and productivity.

About Engineered Pressure Systems, Inc.
Formerly a subsidiary of National Forge Company, Engineered Pressure Systems, Inc. is a leading manufacturer of Hot, Cold & Warm Isostatic Press Systems. With its unique application-specific approach to R&D, manufacturing, and testing, EPSI has
built a tradition of excellence in high-pressure engineering and technology worldwide.

For more information, contact Engineered Pressure Systems, Inc., 165 Ferry Road, Haverhill, MA 01835. Call 978-469-8280, or Engineered Pressure Systems International, Walgoedstraat 19, B-9140 Temse, Belgium. Call 32 (3) 711 24 64. Visit EPSI on the World Wide Web at epsi-highpressure.com
More from Mechanical Components and Assemblies