Press Preview for Seica Inc. Participation at Apex, San Diego, California January 29-31, 2019 Booth 2941, San Diego Convention Center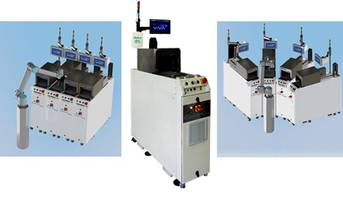 Strambino, Italy, December 2018 -- Seica and innovation are a combination that customers worldwide have come to expect. This year at Apex, Seica will be showing the power and performance of the new VIVA Next hardware and software platform in a totally innovative setting: a virtual factory where visitors will be able to explore hands-on, inside and out, Seica's three new systems: Pilot V8 Next flying probe tester; the fully automated Compact SL Next for in-circuit and functional test; and the Firefly Next, Seica's cutting-edge, laser-based selective soldering system.
In addition, several Seica Mini line test and programming stations will be on display in the Technology area of the booth, where visitors will be able to see the power of the 64 bit VIVA Next software, which takes the open architecture concept to a whole new level.
Seica will also be showcasing two new products, the Compact SLIM, a revoluntionary new ICT and functional test system specifically suited for small boards and low cost applications. The SLIM is ideal if you are looking to integrate the system using automation strategies such as cobots, where it is ideal to have the system interact physically with local operators versus totally autonomus industrial robots. Our desktop AOI/THT system will be on display and provides both conformal coat thickness inspection and component THT inspection in a unique, small footprint platform.
The VIVA NEXT Test Studio gives the user freedom to develop functional test sequences using whatever software is most familiar or preferred (eg. VIVA VL, VIVA Quicktest, VIVA Flylab, TestStand, Labview, MS Excel, Python, VBScript), while providing a complete set of utilities and tools specifically designed to easily manage all aspects of test. The Test Studio initializing the environment and control of the overall test flow, such as; test program settings, barcodes, board status, pass/fail information, report generation, and variant management, allowing the programmer to concentrate attention only on what matters most, the test program.
The VIVA MyView environment makes it easy to customize the graphical interface for the operator, using the Seica graphic editor. Since MyView can also interact seamlessly with third party applications, it can provide one single operator interface (HMI) to manage all the steps of the test sequences.
VIVA NEXT, together with Seica's years of experience, provides intelligent integration with all aspects of the customer's manufacturing processes: data collection, traceability, interaction with MES, repair operations. In short, it includes all of the core concepts of Industry 4.0.
About Seica
Founded in 1986, Seica S.p.A. is an innovative, high technology company that develops and manufactures leading-edge solutions for the test and selective soldering of electronic boards and modules. Combining deep expertise in electronics technology as well as in industrial machines and processes has enabled Seica to become a global leader and supplier of test and manufacturing solutions, with an installed base of more than 2000 systems on 4 different continents. Seica has fully embraced the concept of Industry 4.0, developing solutions to monitor and collect information from machines and industrial plants to enable the optimization of manufacturing processes, maintenance and energy management.
Company headquarters are located in Strambino, Italy, with direct offices in USA, Germany, China, Mexico and France, supported by a vast distribution network covering the rest of the world. Since 2014, the Seica Group includes Seica Automation, located in Milan, which designs and manufactures board handling systems and other automation equipment for the electronics manufacturing industry.
Please see www.seica.com
More from Fluid & Gas Flow Equipment