Press Fit Sensor analyzes melt and cavity temperature.
Press Release Summary: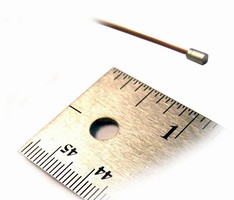 Able to analyze temperature variation inside mold cavity, Press Fit Cavity Temperature Sensor works in conjunction with eDART(TM) Process Control System to assist molders in diagnosing processing problems relating to temperature issues. Unit can be installed by drilling small hole for wire and flat bottomed pocket with tolerances necessary to press fit device in from cavity face. Placing sensors in different areas of part can show problems with non-uniform cooling.
---
Original Press Release:

Press Fit Temperature Sensor



Melt and cavity temperature can be critical to many parts, especially those made with semi-crystalline materials and requiring tight dimensional tolerances. Thermodynamic stability in injection molding with crystalline material is an extremely critical variable. Achieving proper temperatures after a cycle break can require numerous cycles. Monitoring the temperature inside the cavity itself helps troubleshoot processing problems.

RJG developed the Press Fit Cavity Temperature Sensor as a tool to analyze temperature variation inside the actual mold cavity. These sensors work in conjunction with RJG's eDART(TM) Process Control System to assist molders in diagnosing processing problems relating to temperature issues. The temperature of both the melt and mold make up two of the four "Plastics Variables" that determine how a part is formed.

The press-fit cavity temperature sensor is simple to install by drilling a small hole for the wire, and a flat bottomed pocket with the tolerance necessary to press fit the device in from the cavity face. Locate the sensors near areas where short shots, dimensional errors or warp are likely to occur. Placing sensors in different areas of the part can show problems with non-uniform cooling.

The best use of temperature sensors for control is with valve gates, particularly when there is little or no pressure at the point you wish to actuate a gate. For example you can open a gate when the flow front just passes the gate by placing a temperature sensor there. A sudden rise in temperature indicates the arrival of the flow front.

Temperature sensors can play a critical role in detecting cooling inconsistencies that cannot be detected by the machine controller, making them a valuable tool for troubleshooting processes.

Contact: Patricia A. Hirst
Marketing Coordinator
RJG, INC.
3111 Park Drive
Traverse City, MI 49686
pat.hirst@rjginc.com
Phone: 231-947-3111
Fax: 231-947-6403

http://www.rjginc.com

More from Electronic Components & Devices