Precision Calibrator has voltage output from -15 to 75 mV.
Press Release Summary: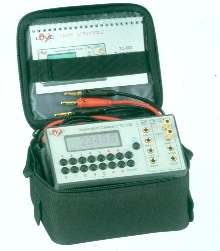 TC502 portable precision calibrator with Universal temperature input and output offers LCD display and direct digit data entry. Inputs available for Thermocouples include J, K, T, B, R, S, E, N, and L types in degrees F and C. Inputs available for 2, 3, and 4-wire RTDs include 100 ohm and 1000 ohm platinum DIN curves, 10 ohm copper, and 100 ohm nickel. Voltage input is -0.150 to 2.450 V, and resistance input is from 0 to 2500 ohms.
---
Original Press Release:
Love Introduces New TC502 Portable Precision Calibrator

LOVE CONTROLS, a Division of Dwyer Instruments, Inc., Michigan City, Indiana introduces their NEW TC502, portable precision calibrator with Universal temperature input and output. This high-accuracy calibrator, in a compact easy to use package, offers input and output availability for virtually all types of thermocouple or RTD sensors. The TC502 also offers inputs and outputs for voltage and resistance, and an excitation power supply for easy calibration of transmitters.

Standard features on the TC502 include: large easy to read LCD display, direct digit data entry, and gold plated terminal contacts. Inputs available for Thermocouples include Types, J, K, T, B, R, S, E, N, and L, in degrees F and C for either the IPTS 68 or IPTS 90 calibrations. Inputs available for 2, 3, and 4-wire RTDs include 100 ohm and 1000 ohm platinum DIN curves, 10 ohm copper, and 100 ohm nickel. Voltage input is -0.150 to +2.450V, and the resistance input is from 0 to 2500 ohms. Outputs for Thermocouples, RTDs, and resistance are the same as the inputs. Voltage output is -15 to +75 mV. Other features include self-contained rechargeable battery with charger, programmable curves, square root function, ramping function, a set of cables and a handy carrying case, and an NIST tracable calibration certificate.

LOVE CONTROLS produces a broad range of instruments and sensors for temperature and process monitoring and control. Instruments range from simple single board controls to complicated microprocessor based products with computer communication capabilities. The LOVE CONTROLS line of temperature sensors includes thermocouple and RTD assemblies and accessories. LOVE CONTROLS' products are designed and manufactured to high quality and reliability standards and backed by solid warranties and years of practical experience.

For more information, contact Mr. Jim Nolan, Technical Sales Manager, LOVE CONTROLS DIVISION, DWYER INSTRUMENTS, INC., PO Box 373, 102 Hwy 212, Michigan City, IN 46361. Phone 219.879.8868, Fax 219.872.9057, Website: www.love-controls.com
More from Sensors, Monitors & Transducers