Power Splitters work with low PIM in-building DAS antennas.
Press Release Summary: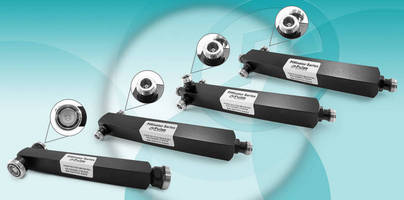 Respectively, DASSPLIT2WNF/3WNF/4WNF are 2-, 3-, and 4-way power splitters with N female connectors. Also available, DASSPLIT2WDIN 2-way power splitter has female 7 16 DIN connectors. Each of these products work with PIMinator low passive intermodulation (PIM) indoor distributed antenna system (iDAS) series to ensure PIM spec of -155 dBc at 2 x 20 W in buildings where multiple antennas are present to promote data rates as well as minimize dropped calls and other cellular phone issues.
---
Original Press Release:

Pulse Electronics' Introduces Power Splitters for PIMinator Line of Low PIM In-Building DAS Antennas



Enable industry-leading PIM spec of -155 dBc



See us at IWCE Booth #4027



San Diego, Calif. – Pulse Electronics Corporation (NYSE: PULS), a leading provider of electronic components, introduces a new line of power splitters for its PIMinator low passive intermodulation (PIM) indoor distributed antenna system (iDAS) family. When there are multiple antennas in a building, the signals need to be split between the antennas. Pulse's power splitters are designed to work with its PIMinator line of antennas to ensure a PIM spec of -155 dBc at 2x20 watts. Low PIM is the key to the performance of DAS systems because PIM reduces or degrades base station performance. With low PIM there are fewer dropped calls, higher data rates, and fewer problems for cellular phone users and operators to deal with.



"The antenna is only as good as the splitter and vice versa," explained Paul Fadlovich, director of infrastructure, Pulse Electronics Wireless Division. "Most companies only make one part, the splitter or the antenna, but to get maximum performance, they need to work together. Pulse's new PIMinator line of iDAS PIM antennas has an industry-leading PIM spec of -155 dBc for both the antenna and the splitter, increasing capacity and data throughput and ensuring full performance of the antenna system."



The new line consists of 4 splitters: the DASSPLIT2WNF 2-way power splitter with N female connectors, the DASSPLIT3WNF 3-way power splitter with N female connectors, the DASSPLIT4WNF 4-way power splitter with N female connectors, and the DASSPLIT2WDIN 2-way power splitter with female 7 16 DIN connectors. The splitters have a dimension of 7.53" (191.2mm) length x 2.38" (60.6mm) width x 0.98" (25mm) height. They meet the demanding requirements of cellular operators and integrators of low PIM components for 2G, 3G, and LTE/4G bands around the world. An iDAS allows users to receive cellular coverage inside a building instead of depending on a cell site outside the building.



Pulse Electronics' patent-pending PIMinator splitters are individually boxed. They are for use with Pulse Electronics' PIMinator line of low PIM iDAS ceiling mount omni antennas. Learn more about Pulse Electronics' PIMinator antennas at the International Wireless Communications Expo (IWCE), Las Vegas Convention Center, NV, March 26 and 27, Booth #4027. More information can be found on the following datasheets located at http://productfinder.pulseeng.com/productSearch?id=&searchBy=dassplit or on the Pulse Electronics website at http://www.pulseelectronics.com, or email us at antennas.us@pulseelectronics.com.



About Pulse Electronics:



Pulse Electronics is the electronic components partner that helps customers build the next great product by providing the needed technical solutions. Pulse Electronics has a long operating history of innovation in magnetics, antennas, and connectors, as well as the ability to ramp quickly into high-quality, high-volume production. The Company serves the wireless and wireline communications, power management, military/aerospace, and automotive industries. Pulse Electronics is a participating member of the IEEE, SFF, OIF, HDBaseT Alliance, CommNexus, NFC Forum, MoCA, and IWPC. Visit the Pulse Electronics website at www.pulseelectronics.com.



Copyright ©2014 Pulse Electronics Corporation. All rights reserved. All brand names and trademarks are properties of their respective holders.



Pulse Electronics

Paul Fadlovich

Director, Pulse Wireless Division

Pulse Electronics

Tel: +1 360-859-5022

Email: pfadlovich@pulseelectronics.com



A R Marketing Inc. (agency)

Andrea Roberts

Tel: +1 858-204-9584 mobile

Email: andrea@armarketinginc.com

More from Construction Equipment and Supplies