Power Relay meets U.S. and European standards.
Press Release Summary: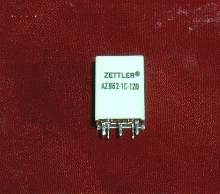 Model AZ962 10 Amp SPDT or SPST relay has cadmium free contacts, 0.26 in. square footprint, creepage/clearance to VDE0435 and VDE0700, and is available in high CTI version for European applications. For high-temperature applications, it comes with Class F insulation. Creepage/clearance of 4 mm/3mm allows it to withstand 4000 V surge from contact to coil.
---
Original Press Release:
AZ962 10 AMP Power Relay Meets Both U.S. and European Standards

Aliso Viejo, California - American Zettler, Inc. has just introduced a new relay that is "at home" in applications needing both U.S. and European regulatory approvals. This new 10 Amp SPDT or SPST relay has environmentally friendly cadmium free contacts, creepage/clearance to VDE0435 and VDE0700 and is available in a "high CTI" version for demanding European applications. For high temperature applications, the AZ962 comes with Class F insulation standard. The creepage/clearance of 4 mm / 3mm allows the AZ962 to withstand a 4000 V surge from contact to coil. All this in a small 0.26" square footprint and low cost makes this relay an excellent choice for your 10 Amp switching requirements.

Pricing starts at $0.51 at 1,000 pieces.

For application and product information contact:
Fred Harmon
Vice President, Sales & Marketing
American Zettler, Inc.
75 Columbia
Aliso Viejo, CA 92656
Tel: (949) 831-5000
Fax: (949) 831-8642
Web Site: www.azettler.com
E-Mail: sales@azettler.com