Power MOSFET Gate Driver suits automotive applications.
Press Release Summary: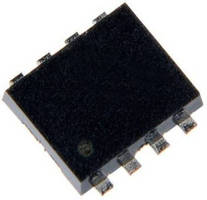 Housed in 2.8 x 2.9 mm PS-8 package, single-channel Model TPD7104F enables use of N-channel power MOSFETs for high-side switching applications. IC features self-contained charge pump that optimizes MOSFET switch and eliminates need for external components. Providing overcurrent protection and diagnostic functions, device is suited for automotive applications using 12 V batteries to operate N-channel MOSFETs, including semiconductor relays and load switches.
---
Original Press Release:

Toshiba Introduces New Power MOSFET Gate Driver for Automotive Applications



IRVINE, Calif. -- Toshiba America Electronic Components, Inc. (TAEC)*, a committed leader that collaborates with technology companies to create breakthrough designs, today announced the launch of the TPD7104F, a single channel, high-side, N-channel power MOSFET gate driver designed for use in automotive applications.



The TPD7104F enables the use of cost-effective N-channel power MOSFETs for high-side switching applications. The new IC features a self-contained charge pump that enhances an N-channel MOSFET switch and eliminates the need for external components. All of this functionality comes in a small PS-8 package (2.8mm x 2.9mm).



The TPD7104F is suited for use in automotive applications using 12V batteries to operate high-side N-channel MOSFETs, such as semiconductor relays and load switches. Examples include idle stop and electric power steering systems.



Toshiba offers an extensive lineup of power devices for various automotive applications. The combination of low-ON-resistance and fast switching speed makes Toshiba's power MOSFETs an ideal solution for reducing system losses, thereby contributing to energy conservation in automotive applications. The TPD7104F is scheduled to be AECQ-100 qualified by the Automotive Electronics Council in 2015.



Key features include:



--  BiCD 0.13 m process

--  Supply voltage: V(DD(opr))=5 to 18V

--  Built-in protection and diagnostic functions:

    --  Protection functions: overcurrent

    --  Diagnostic functions: overcurrent

--  Output voltage

    --  V(OUT)=V(DD)+8V(Min)@V(DD)=5V, I(OUT)=-100 A, T(j)=-40 to 125 degrees C

    --  V(OUT)=V(DD)+10V(Min)@V(DD)=8 to 18V, I(OUT)=-100 A, T(j)=-40 to 125 degrees C

--  Small package

    --  PS-8(2.8mm x 2.9mm)



The TPD7104F is now shipping. For more details, samples and pricing information, please contact your local Toshiba Sales Office.



*About Toshiba Corp. and TAEC



About TAEC

Through proven commitment, lasting relationships and advanced, reliable electronic components, Toshiba enables its customers to create market-leading designs. Toshiba is the heartbeat within product breakthroughs from OEMs, ODMs, CMs, VARs, distributors and fabless chip companies worldwide. A committed electronic components leader, Toshiba designs and manufactures high-quality flash memory-based storage solutions, solid state drives (SSDs), hard disk drives (HDDs), solid state hybrid drives (SSHDs), discrete devices, custom SoCs/ASICs, imaging products, microcontrollers, wireless components, mobile peripheral devices, advanced materials and medical tubes that make possible today's leading smartphones, tablets, cameras, medical devices, automotive electronics, industrial applications, enterprise solutions and more.



Toshiba America Electronic Components, Inc. is an independent operating company owned by Toshiba America, Inc., a subsidiary of Toshiba Corporation, Japan's largest semiconductor manufacturer and the world's sixth largest semiconductor manufacturer (Gartner, 2014 Worldwide Semiconductor Revenue Estimates, December 2014). Founded in Tokyo in 1875, Toshiba is at the heart of a global network of over 590 consolidated companies employing over 200,000 people worldwide. Visit Toshiba's web site at www.toshiba.co.jp/index.htm.



For additional company and product information, please visit http://www.toshiba.com/taec/.



© 2014 Toshiba America Electronic Components, Inc. All rights reserved.



Information in this press release, including product pricing and specifications, content of services and contact information,  is current and believed to be accurate on the date of the announcement, but is subject to change without prior notice.  Technical and application information contained here is subject to the most recent applicable Toshiba product specifications.



CONTACT:

Rebecca Bueno

Toshiba America Electronic Components, Inc.

Tel.: (949) 462-7885

rebecca.bueno@taec.toshiba.com 



Related