Power Modules replace transistors in radar applications.
Press Release Summary: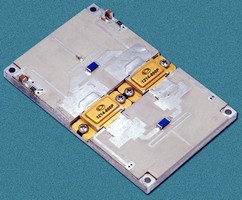 Operating at 800, 700, and 550 W, respectively, Models 1214-800P, 1214-700P1, and 1214-550P Power Solution Modules can be used to replace up to four 220 W transistors in high power L-Band pulsed radar applications. Plug and play capable, Class C modules feature 1,200-1,400 MHz frequency coverage, 300 µs medium pulse format, 8 db/min high power gain, 50% collector efficiency and 50 W in, 50 W out amplifier stage for pulsed radar systems.
---
Original Press Release:

Microsemi Announces New Power Solution Modules for L-Band Radar Applications



IRVINE, Calif., May 8, 2007 -- Microsemi Corporation (Nasdaq:MSCC), a leading manufacturer of high performance analog mixed signal integrated circuits and high reliability semiconductors, has announced a new series of state-of-the-art Power Solution Modules for high power L-Band pulsed radar applications.

"We are very excited to be the first supplier to bring to market a full series of L-Band Power Solution Modules," said Jerry Chang, Director of Microsemi's Radar and RF Module Business in Santa Clara, California. "Now our customers can use just one of our 550W, 700W, or 800W modules to replace up to four 220W transistors that are commonly designed in parallel at the output of L-Band power amplifiers."

"Our new PSM Series is designed to provide substantial reductions in system design time, real estate, and complexity. Most importantly, customers can achieve cost savings in the design and manufacture of their system amplifiers while providing considerably higher efficiency, reduced power amplifier size, and better system reliability in mission critical applications," Chang added.

The Microsemi Power Solution Module Series consists of three model types: the 1214-800P, 1214-700P1, and 1214-550P. They provide a "50 Ohms IN-50 Ohms OUT" fully matched across 1200-1400MHz band, high power amplifier stage for pulsed radar systems. These high performance, Class C, modules are designed for unparalleled performance, delivering peak power outputs greater than 550W, 700W, and 800W at 50% collector efficiency, under a pulse format of 300 microseconds, 10% long term duty cycle. Their user friendly design provides customers with plug-and-play capability that requires no additional tuning or complicated impedance matching.

The PSM product family uses a Microsemi proprietary chip design, effective power combining, and advanced state-of-the-art automated assembly and testing. Their design and manufacturing advantages result in superior performance in power output, gain, efficiency, and footprint, while achieving outstanding module consistency and repeatability in high volumes.

Commenting on the new modules, Charles Leader, Vice President of Microsemi's Power Products RF Division, said "Our Division continues to focus on providing Microsemi customers with leading edge technology to deliver value-added solutions like the PSM Series for their power amplifier needs. Our customers can count on us to listen to their needs and respond accordingly."

Demo units are available now by contacting the factory direct or send email to psm@microsemi.com. Technical datasheets are available on the Microsemi website at www.microsemi.com.

L-Band PSM Key Product Features:
o Frequency Coverage: 1200 - 1400 MHz
o Medium Pulse Format: 300 us, 10%
o Excellent Output Power : > 550W, > 700W, > 800W
o High Power Gain: > 8 dB min
o Collector Efficiency: > 50%
o Compression: Class C
o Compact Size: 3.2" x 2" x 0.21"

Power Solution Module Benefits:
o Easy to use - 50 Ohms IN-50 Ohms OUT - Plug and play
o Reduced Design Cycle - No complex RF impedance matching work required
o Reduced System Size - PSM devices are compact
o Reduced System Complexity - Fewer combine stages required - no matching necessary
o Improved System Performance - High efficiency, reliability & repeatability
o Eliminates System Production Transistor Assembly and RF Tuning Time
o Improves Production Yield - Reduces Transistor Scrap
o Reduces System Components Inventory
o Can build Microsemi PSMs to customer specifications

About Microsemi Corporation

Microsemi Corporation, with corporate headquarters in Irvine, California, is a leading designer, manufacturer and marketer of high performance analog and mixed signal integrated circuits and high reliability semiconductors. The company's semiconductors manage and control or regulate power, protect against transient voltage spikes and transmit, receive and amplify signals.

Microsemi's products include individual components as well as integrated circuit solutions that enhance customer designs by improving performance, reliability and battery optimization, reducing size or protecting circuits. The principal markets the company serves include implantable medical, defense/aerospace and satellite, notebook computers, monitors and LCD TVs, automotive and mobile connectivity applications. More information may be obtained by contacting the company directly or by visiting its web site at www.microsemi.com.

More from Architectural & Civil Engineering Products