Power Integrated Module suits next-gen automotive BLDC systems.
Press Release Summary: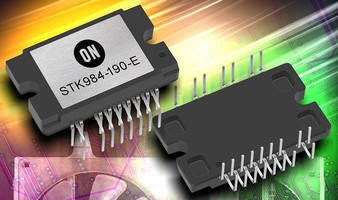 Optimized for driving 3-phase brushless DC motors in 12 V automotive electric motor drive applications with power ratings up to 300 W, STK984-190-E comes in Pb-free, 29.6 x 18.2 x 4.3 mm DIP-S3 and contains 6 AEC-Q101-qualified, 40 V, 30 A MOSFETs configured as 3-phase bridge as well as another 40 V, 30 A high-side reverse battery protection MOSFET. Mounting of MOSFETs to direct bonded copper substrate optimizes thermal performance for -40 to +150°C operational range.
---
Original Press Release:

ON Semiconductor Introduces Automotive Power Integrated Module Solution for Next Generation Automotive BLDC Systems



Highly integrated module featuring 30 A, 40 V MOSFETs enables development of more compact, streamlined motor drives exhibiting elevated degrees of reliability



PHOENIX, Ariz. – ON Semiconductor (Nasdaq: ON), driving energy efficiency innovations, has further expanded its portfolio of automotive Power Integrated Modules (PIMs) with the introduction of the STK984-190-E. Optimized for driving 3-phase brushless DC motors in modern automotive applications, this module contains six 40 V, 30 A MOSFETs configured as a three-phase bridge with an additional 40 V, 30 A high-side reverse battery protection MOSFET. The MOSFETs are mounted onto a direct bonded copper (DBC) substrate, resulting in a compact module with excellent thermal performance taking up only half of the board space used by an equivalent discrete solution.



The module is suitable for use in 12 V automotive electric motor drive applications with power ratings up to 300 W, such as electric pumps, fans and windscreen wipers. Used in combination with motor controllers, such as LV8907UW, designers can build high efficiency BLDC solution with best in class thermal performance, built in diagnostics, and an ultra-small PCB that saves critical size and weight.



Using the module allows both the component count and the bill of materials costs to be reduced substantially. The DBC substrate reduces the thermal resistance, which reduces the operating temperature of the MOSFETs. This reduces power losses and increases reliability due to a reduced change in temperature during thermal cycling. Reliability is also improved by the isolation provided by the DBC substrate.  STK984-190-E has a specified operational temperature range of -40°C to 150°C. The integrated MOSFETs are all AEC-Q101 qualified.



At least 13-15 discrete components would typically be needed to develop an effective BLDC drive solution, whereas the STK984-190-E automotive power module needs less than half that," states Chris Chey, General Manager of System Solutions Group at ON Semiconductor. "In addition to its compact size, the strong thermal performance of the STK984-190-E allows a smaller heatsink to be employed. The marked reduction in system size and weight that it enables, mean the current challenges that engineers face in terms of boosting fuel economy and overcoming space constraints can be fully addressed."



Packaging and Pricing

The STK984-190-E is supplied in a Pb-free DIP-S3, measuring 29.6mm x 18.2mm x 4.3mm. It is priced at $3.50 per unit in 16-unit quantities.



About ON Semiconductor

ON Semiconductor (Nasdaq: ON) is driving energy efficient innovations, empowering customers to reduce global energy use. The company is a leading supplier of semiconductor-based solutions, offering a comprehensive portfolio of energy efficient power management, analog, sensors, logic, timing, connectivity, discrete, SoC and custom devices. The company's products help engineers solve their unique design challenges in automotive, communications, computing, consumer, industrial, medical, aerospace and defense applications. ON Semiconductor operates a responsive, reliable, world-class supply chain and quality program, a robust compliance and ethics program, and a network of manufacturing facilities, sales offices and design centers in key markets throughout North America, Europe and the Asia Pacific regions. For more information, visit http://www.onsemi.com.



Follow @onsemi on Twitter.



ON Semiconductor and the ON Semiconductor logo are registered trademarks of Semiconductor Components Industries, LLC. All other brand and product names appearing in this document are registered trademarks or trademarks of their respective holders. Although the company references its website in this news release, information on the website is not to be incorporated herein.



Contacts

Noriko Fujiwara

Media Relations

ON Semiconductor

(602) 244-5986

Noriko.Fujiwara@onsemi.com



Parag Agarwa

Vice President Investor Relations

ON Semiconductor

(602) 244-3437

Parag.Agarwal@onsemi.com



Issued by:

Hannah Hines, Pinnacle Marketing Communications Ltd

Tel: 00 44 (0) 20 8429 6547

Email: h.hines@pinnaclemarcom.com

Web: http://www.pinnacle-marketing.com

More from Packaging Products & Equipment