Power-Factor Monitor checks insulation without shutdown.
Press Release Summary: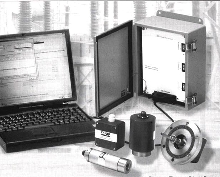 Modular PF Live performs on-line insulation power-factor measurements on bushings of power transformers, current transformers, circuit breakers, and other electrical apparatus. Tests are performed at rated voltage in less than five min. Measurement data can be stored on laptop, exported to master database, and used for trending and analysis purposes via system's software. Basic system can be upgraded to continuous monitoring system.
---
Original Press Release:
Improve Maintenance And Reduce Costs With The Latest On-Line Power Factor Monitoring System

AVO International launches its low-cost PF Live (Power Factor Live) modular product line, designed to perform insulation power factor measurements on bushings of power transformers, current transformers, circuit breakers and other electrical apparatus. Tests are performed with no outages, at rated voltage with no input requirement, in less than five minutes and installation takes less than 30 minutes.

Based on the proven success of AVO's Tan a SOS continuous on-line monitoring system, PF Live's modular approach was developed to provide a low-cost, low maintenance method of measuring insulation power factor on-line with the ability to upgrade from a basic testing system to a continuous monitoring system. Measurement data can be stored on the customer provided laptop, or can be easily exported to a user's master database, and can be used for trending and analysis purposes using the system's software.

Traditionally, high voltage equipment is removed from service regularly and routine off-line tests are performed to determine the condition of the equipment. This is both labor intensive and the testing does not fully duplicate the operational condition of the equipment. Difficulty in obtaining an outage is a known fact and, additionally, as a result of deregulation and acquisition of power companies leading to downsizing and elimination of redundant resources, utilities are extending their maintenance schedules, from the traditional one to two years to in excess of seven years, in some cases, so that their equipment can be fully operational at all times. The PF Live product line provides an early warning of incipient failure and mitigates the risk of catastrophic failure.

AVO International is a specialist in test and measurement equipment for the electric power, contracting and telecom industries. Its brands include MEGGER, MULTI-AMP, BIDDLE and STATES. The company has extensive research and manufacturing facilities in Valley Forge, Pennsylvania; Dallas, Texas and Dover, England, and sales and technical support worldwide.

For further information, please contact: Mary Gordon, PR Manager, AVO International Phone: 214 330-3536; Email: mary.gordon@avointl.com

Ramesh Anand, Product Manager, AVO International Phone: 610 676-8511; Email: ramesh.anand@avointl.com

4651 S WESTMORELAND ROAD DALLAS, TEXAS 75237-1017 USA PHONE: (214) 333-3201 FAX: (214) 333-3533 www.avointl.com

More from Controls & Controllers