Power Anlayzer enables precise cost allocation, control.
Press Release Summary: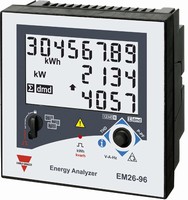 Used for utility metering as well as electrical parameter analysis and control, EM26-96 Series Features backlit LCD display that changes color in case of alarm. MID-compliant unit also offers, 3 digital inputs, 3 digital outputs, and RS485 communication port. It is capable of harmonic analysis up to fifteenth harmonic and can take various energy measurements with ±0.5 current/voltage reading accuracy. Front panel measures 96 x 96 mm and is rated to IP50.
---
Original Press Release:

Compact Power Analyzer



March 26, 2008 - Buffalo Grove, IL - The new EM26-96 Series Compact Power Analyzers from Carlo Gavazzi are the newest addition to our extensive Energy Management product portfolio. This innovative product supplies a very effective and easy-to-use instrument that provides both utility metering and electrical parameters analysis and control - harmonics included. MID compliance, three digital outputs and RS485 communication port, harmonic analysis up to the 15th harmonic, dual color backlit LCD display. The display is also innovative in that the backlit LCD display's color automatically changes in case of alarm. The meters are designed to assure high profile solutions to all industries that require cost allocation and parameter control services. Some other technical features include:

· Class B according to EN50470-1-3, Class 2 (kvarh) according to EN62053-23
· Accuracy ±0.5 RDG (current/voltage)
· Variables readout: 4 digit; Energy analyzer readout: 7+1 digit ; Hour counter readout: 6+2 DGT
· System variables: VLL, VLN, A dmd, VA, VA dmd, VA dmd max, W, W dmd, W dmd max, var, PF, Hz, Phasesequence; Single phase variables: VLL, VLN, A, VA, W, var, PF
· Energy measurements: total and partial kWh and kvarh or based on 4 different tariffs; single phase measurements
· Harmonic analysis (FFT) up to 15th harmonic (current/voltage)
· Gas, cold water, hot water, kWh remote heating measurements
· 3 digital inputs for tariff selection, DMD synch or gas/water (hot-cold) and remote heating metering (on request)
· 3 digital outputs for pulses or for alarms or as a mix of them (on request)
· RS485 serial output (on request)
· Universal power supply: 18 to 60VAC/DC, 90 to 260AC/VDC
· Dual color backlight: no backlight, blue or white (selectable)
· 96x96mm front panel with IP50 protection
· MID (Measuring Instruments Directive) "annex MI-003" compliant

Available in the U.S. from:
CARLO GAVAZZI, 750 Hastings Lane, Buffalo Grove, IL 60089
Phone: 847.465.6100, Fax: 800.222.2659, Email: sales@carlogavazzi.com, Website: www.GavazziOnline.com

More from Mechanical Power Transmission