Potentiometers feature Bulk Metal Foil resistive element.
Press Release Summary: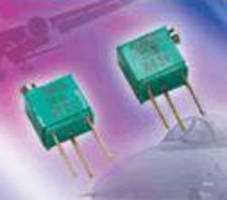 Meeting/exceeding MIL-PRF-22097 Char F requirements, 1242 QPL series Accutrim(TM) trimming potentiometers are QPL-approved ¼ in. square RJ26-style devices with multi-fingered wiper traversing flat element. Essentially non-inductive devices, along with rise times down to 1 ns and 25 kV ESD, offer end-to-end TCR of ±10 ppm/°C from -55 to +150°C, +25°C ref, and ±25 ppm/°C through wiper; load life stability of 0.1% typ under full power at +85°C for 1,000 hr; and less than 0.05% typ settability.
---
Original Press Release:

Vishay's 1242 QPL Series of Bulk Metal® Foil Ultra-High-Precision Accutrim(TM) Trimming Potentiometers Features End-to-End TCR of ± 10 ppm/°C and ± 25 ppm/°C Through the Wiper, Load Life Stability of 0.1 %, and < 0.05 % Settability



1/4-in Square RJ26-Style Devices Designed to Meet and Substantially Exceed Requirements of MIL-PRF-22097 Char. F

MALVERN, Pa. - June 5, 2009 - Vishay Intertechnology, Inc. (NYSE: VSH) today announced a new QPL series of Bulk Metal® Foil ultra-high-precision Accutrim(TM) trimming potentiometers designed to meet and substantially exceed the requirements of MIL-PRF-22097 Char. F. For avionics, military, and space applications (AMS), the QPL approved 1/4-in square RJ26-style devices offer low end-to-end TCR of ± 10 ppm/°C from - 55 °C to + 150 °C, + 25 °C ref., and ± 25 ppm/°C through the wiper, load life stability of 0.1 % typical under full rated power at + 85 °C for 1,000 hours, and a < 0.05 % typical settability.

Vishay's new 1242 series of ultra-high-precision trimmers features a Bulk Metal Foil resistive element that possesses a unique inherent temperature and load life stability. Their advanced, virtually backlash-free (< 0.005 %) adjustment mechanism makes them easy to set quickly and accurately, and maintains that setting through temperature cycling and vibration, as well as thermal and mechanical shock.

Unlike wirewound trimmers that have a single-point contact with the wound element, Vishay Foil trimmers have a multi-fingered wiper traversing a flat element. The wiper engagement pressure can be much higher when the load is spread out over various wiper tangs, so the sensitivity to shock and vibration in Foil-based trimmers is virtually eliminated for most applications. Cermet trimmers have a much greater mass of the rider block and begin to show response to the lower frequencies of vibration and shock.

For high-reliability AMS applications, the 1242 devices are required when the value of resistance or voltage division in a circuit must be adjusted to compensate for environmental influences, when the desired circuit performance cannot be procured and retained through manufacturing, or it is unknown what precision is required.

The devices offer a multi-fingered, noble metal wiper engaging a planar surface of etched Foil for low TCR end-to-end (five times tighter than required by MIL-PRF-39035 Char. H) and through the wiper. Other technologies, such as wirewound and cermet trimmers, have a much higher TCR end-to-end, and cannot be relied upon to demonstrate an acceptable TCR through the wiper, which is an important element in the precise adjustment of circuits subject to temperature fluctuations.

In addition to their low TCR and excellent load life stability, the 1242 trimmers feature a resistance range from 20 W to 5 KW, resistance tolerance of ± 10 %, and 0.25-W power rating at + 85 °C. The devices are essentially non-inductive with rise times as fast as 1 ns for high-frequency applications. For increased reliability, the trimmers provide the utmost in ESD immunity, withstanding electrostatic discharges up to 25 kV.

The devices provide unidirectional, infinite resolution, which when synthesized by a combination of an absolutely uniform resistance material, multiple wiper contact points, and multiple resistance circuit paths, yields a uniquely accurate setability of less than < 0.05 %. There are no turns of wire to be traversed, causing a step function output, and no contact resistance variation to cause an irregular change in resistance with mechanical adjustment.

The 1242 trimmers feature gold-plated terminations with tin/lead terminations on request. Each device is inspected for short-time overload, immersion, resistance tolerance, and end resistance. The trimmers are sealed against moisture and are available with special options including special markings, burn-in and screening operations.

Samples and production quantities of the new 1242 series devices are available now, with lead times from four weeks.

Vishay Intertechnology, Inc., a Fortune 1,000 Company listed on the NYSE (VSH), is one of the world's largest manufacturers of discrete semiconductors (diodes, rectifiers, MOSFETs, optoelectronics, and selected ICs) and passive electronic components (resistors, capacitors, inductors, sensors, and transducers). These components are used in virtually all types of electronic devices and equipment, in the industrial, computing, automotive, consumer, telecommunications, military, aerospace, and medical markets. Its product innovations, successful acquisition strategy, and "one-stop shop" service have made Vishay a global industry leader. Vishay can be found on the Internet at www.vishay.com.

Bulk Metal is a registered trademark of Vishay Intertechnology, Inc

More from Architectural & Civil Engineering Products