Potentiometer Switch offers dual control options.
Press Release Summary: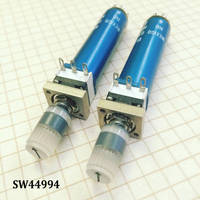 To maximize operation control, SW44994 potentiometer switch assembly offers rotary and push-on/pull-off functionality. All-in-one design of this SPST-DPDT switch conserves panel space, and functionality lets users specify unique value at which circuit or channel will automatically open upon button actuation. Along with D-flat shaft to accommodate edgelit knob with set screw, assembly features Push-On/Pull-Off pushbutton switch and 10 KΩ resistance potentiometer module.
---
Original Press Release:

Electro-Mech's Potentiometer Switch Offers Dual Control Options with Push-Pull Switch Mechanism



SOUTH EL MONTE, Calif. -- Electro-Mech's new SW44994 potentiometer switch assembly offers both rotary and push-on / pull-off functionality for maximum operation control. The compact all-in-one unit saves valuable panel space in applications where there are tight design limitations.



The SPST-DPDT switch enables the user to specify a value so that at the push of a button, the circuit or channel automatically opens at the preset level. The SW44994 assembly features: a D-flat shaft to accommodate an edgelit knob with set screw, a PushOn / Pull-Off pushbutton switch, and a 10K Ω resistance potentiometer module. Typical applications for the SW44994 switch include industrial/avionics displays and audio controls, instrument panel control, aircraft simulator controls, and other high-density panels. Previous models were only available in momentary or push-on/remain-in/pushoff switching mechanisms.



Lightweight, the compact unit weighs less than one ounce and measures less than ¾" square. The SW44994 requires approx. 2" of space behind the display panel and includes solder lug terminals for wiring. PC pins are also available for direct PCB mounting.



The SW44994 is rated at 1.0A resistive at 30 VDC. Potentiometer resistance is 10K Ω + 10% but can be customer specified. Other features provided by the SW44994 include Push-On/Pull-Off switch mechanism, push pressure of 52 oz. (+ 4 oz.), pull force of 36 oz. (+ 4 oz.), plunger travel of approximately 0.15", and a rated switch life of 100,000 minimum actuations.



Unit pricing is $34.00-$38.00 at 1,000 pieces depending upon options with delivery of 10 weeks ARO. Complete specifications are available on request.



Electro-Mech Components, Inc. is located 15 miles east of downtown Los Angeles in South El Monte, California and specializes in the design and manufacture of illuminated pushbutton switches, indicator lights, potentiometer-switch assemblies, and multi-switch interlocking assemblies. The company operates its switch manufacturing and shelter manufacturing plants in Tijuana, B.C. Mexico.



For complete specifications and drawings on the SW44994 or the company's entire line of products contact Electro-Mech Components, Inc., 1826 Floradale Ave., South El Monte, CA 91733-3689, Phone (888) 442-7180, Fax (626) 350-8070, Email: 

[email protected]

, Web: www.electromechcomp.com.



For additional photo formats, including electronic files of the attached slide image, please contact Terry Trumbull at (626)442-7180 x12 or e-mail:

[email protected]

.