Post-Baking Dryers target smaller, regional bakeries.
Press Release Summary: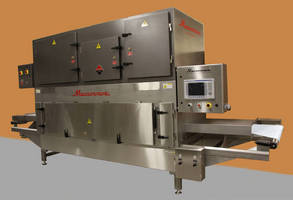 To meet needs of smaller regional bakeries, Bantam-Series Macrowave™ Post-Baking Dryers can boost throughput capacities by 30% or more while eliminating checking and over-coloring problems. Systems are designed for up to 1 m wide bands producing 3,000 lb/hr or less and do not require any external plant cooling or heavy electrical drops. Design, featuring minimal number of components, lends to robustness and helps simplify maintenance.
---
Original Press Release:

Announcing the New Bantam-Series Macrowave(TM) Post-Baking Dryers.



Radio Frequency Company…is going small.



For the last 25 years, RFC has been designing their Macrowave™ Post-Baking Dryers to boost productivity and eliminate checking for the core products of large wholesale producers of biscuits and crackers.  For lines producing 6,000 to 7,500 pounds per hour, the size and complexity of the dryer requirements pushed the capital and installation costs, to a point where the business case simply didn't make sense for bakery lines producing smaller quantities of products.



To bring this proven technology to smaller regional producers, Radio Frequency Company is now offering its new Bantam-Series Macrowave™ Post-Baking Dryers, designed specifically for up to one meter wide bands producing 3,000 pounds per hour or less.  The new systems require no external plant cooling, and no heavy electrical drops.  With far fewer components and a simple yet robust design, the capital and maintenance costs are greatly reduced such that the business case is positive, and the technology is now available, for smaller regional bakeries.



Capable of boosting throughput capacities by 30% or more, while also eliminating checking and over-coloring problems, Macrowave™ Post-Baking technology may now be the right solution for the smaller bakeries too.  Radio Frequency Company is also offering their Macrowave™ Leasing plan giving producers a chance to try-it before they buy-it.  For additional details, please contact Tim Clark at tclark@radiofrequency.com , visit our website at www.macrowave.com  or call 508.376.9555