Portable Spectrometer handles metal testing applications.
Press Release Summary: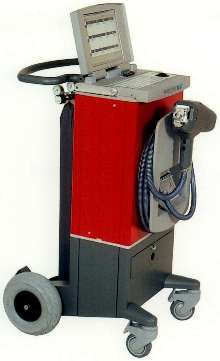 SPECTROTEST(TM) employs arc/spark technology and intelligent software that automatically recalibrates for changing conditions. ICAL (Intelligent Calibration Logic) monitors/controls operation independent of external influences. Using one sample, Automatic Program Finder recognizes new matrices, loads optimal testing program, and selects optimum parameters. Offerings include optical system with CCD detectors and holographic gratings.
---
Original Press Release:
SPECTRO Rolls Out Universal Mobile Spectrometer Designed to Handle Virtually Any Metal Testing Application
Next-generation, self-contained unit features intelligent software for unprecedented accuracy, speed, and flexibility. Fitchburg, MA - November Nov. 22, 2002 - SPECTRO Analytical Instruments, a leading global supplier of analytical instruments and systems for the metals industry, has introduced a revolutionary new portable spectrometer designed to satisfy the requirements of virtually any on-site industrial or commercial metal testing application. The new SPECTROTEST(TM) portable spectrometer employs advanced arc/spark technology and incorporates a number of powerful features designed to ensure fast, easy, inexpensive analysis of an exceptionally wide range of metal alloys and sample geometries. The unit can easily handle applications ranging from analysis of thin wires and curved surfaces such as cable or pipe, to on-site alloy identification at shipping/receiving docks and scrap yards. Intelligent Software Automatically Recalibrates for Changing Conditions Heart of the SPECTROTEST system is an advanced software component called ICAL (Intelligent Calibration Logic). The Windows-based ICAL software monitors and controls every aspect of the spectrometer's operation independent of external influences. As a result, time-consuming recalibration of the system is virtually eliminated. Whether the instrument is moved to a new location is subjected to significant temperature changes, or is used to analyze totally different alloys, the user only needs to run a single control sample. The innovative ICAL software automatically recalibrates and selects the optimum parameters for the new testing conditions. Conventional spectrometers require up to five samples and a corresponding number of individual measurements before the analyzer's optimal measurement program is selected and loaded and the most suitable excitation parameters are chosen. ICAL's Automatic Program Finder quickly recognizes new matrices, loads the most suitable testing program, and selects the optimum parameters for the user's new requirements. Innovative Features Result In Benchmark Performance o Patented optical system with CCD detectors and holographic gratings ensure exceptional precision over the entire relevant wavelength. o Ergonomic design and rugged construction provide trouble-free operation. Critical components are mounted in protective housings to guard against interference from dust and shock. o Dual probes handle standard metal analyses as well as determination of key elements such as phosphorous, sulfur, boron, and tin in alloys. o Compact, lightweight design provides easy portability. Several hundred measurements can be conducted on a single charge of the unit's optional battery. o Easy interfacing to USB devices, printers, networks, and PC screens. Founded in 1979, SPECTRO Analytical Instruments is recognized worldwide as a technological leader in Arc/Spark, Glow Discharge, X-ray Fluorescence, and Inductively Coupled Plasma (ICP and ICP-MS) Spectrometry. For more information on SPECTROTEST analyzers, write to SPECTRO Analytical Instruments, 160 Authority Drive, Fitchburg, MA 01420, call (798) 342-3400, or 800-548-5809; or visit our web site at www.spectro-ai.com
More from Laboratory and Research Supplies and Equipment