Portable Mainframes offer data acquisition and modal analysis.
Press Release Summary: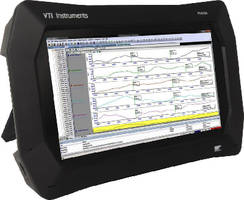 Packaged with EXLab data acquisition software and instrumentation options that include multi-channel digitizers and arbitrary waveform generators, PMX04 4-slot PXI Hybrid Mainframe is capable of acquiring 24 bit data at 625 kSa/s per channel. PMX04-MOD combines PMX04 mainframe and dynamic signal digitizers and source modules with X-Modal III modal analysis tool. Both integrate 14.0 in. LCD touchscreen, embedded computer with >1 Gbps throughput rates, and 256 GB hard drive for storage.
---
Original Press Release:

VTI Brings Precision Data Acquisition and Modal Analysis to Portable Applications



Irvine, CA — VTI Instruments has announced the introduction of its PMX04-DAQ and PMX04-MOD - Two turn-key, light-weight portable systems designed to enable users to achieve high speed data acquisition and modal analysis from any location. By combining a 14.0" LCD touch-screen, embedded computer with throughput rates of >1 GB/s, and a 256 GB hard drive for large capacity storage, both the PMX04-DAQ and PMX04-MOD provide precision test system performance in a mobile form factor.



PMX04-DAQ

The PMX04-DAQ is a preconfigured PMX04 four-slot PXI Hybrid mainframe packaged with EXLab data acquisition software and instrumentation options that include high-speed multi-channel digitizers and arbitrary waveform generators. With a simple to use, yet powerful graphical interface, this solution is ideal for verifying design integrity of electromechanical products. The PMX04-DAQ includes extensive post processing tools such as FFT and Power Spectral Density Analysis. The system is capable of acquiring 24 bit data at 625 kSa/s Per Channel - ideal for recording and analyzing acoustic, vibration, and voltage data.



The PMX04-MOD wraps advanced modal test and analysis capabilities into a small, portable package. It combines the PMX04 mainframe and dynamic signal digitizers and source modules with the popular X-Modal III modal analysis tool to deliver intuitive, task oriented interfaces, extensive modal parameter estimation algorithms, parallel display capabilities, flexible data management, and embedded data acquisition capabilities. The PMX04-MOD is ideal for those who want to quickly set up and conduct modal analysis, ground vibration testing, MIMO shaker testing, multi-reference impact testing, or problem analysis and trouble shooting, from any location, with options that extend measurement capacity to 48 channels of acquisition and four channels of source.



"Our PMX04 portable PXI Express mainframe has generated a lot of interest in the general purpose test and measurement community," said Tom Sarfi VP of Product Management. "By packaging it with our next generation data acquisition instrumentation and robust turnkey software solutions, we are providing a mobile system to mechanical test engineers that enables them to setup and run tests in a matter of minutes rather than hours".



To learn more about our portable data acquisition and modal analysis solutions, please visit our website.



About VTI Instruments

VTI Instruments delivers precision modular instrumentation and systems for electronic signal distribution, acquisition, and monitoring, used in the world's most demanding test applications. The company's products and systems are used to monitor and record data that characterizes the physical integrity and performance of aircraft, engines, and other large structures, as well as automate the functional testing of complex electronic systems.



VTI is recognized as an industry leader with a reputation of providing reliable data, first time, every time. A sustained focus on innovation and technology enables VTIs customers to optimize their capital investment through product longevity, while ensuring unmatched measurement integrity and data reliability.



VTI Instruments is a unit of AMETEK, Inc., a leading global manufacturer of electronic instruments and electromechanical devices.



Contact Us:

VTI Sales

sales@vtiinstruments.com

(949) 955-1894





More from Computer Hardware & Peripherals