Portable Digital Oscilloscope aids low bandwidth debugging.
Press Release Summary: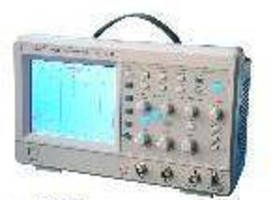 Offering mathematic functions, FFT spectrum analysis, automatic parameter measurements, and option configurations, GAO1042M helps to perform complex measurements in sciences, medicine, engineering, and telecom industries. It applies testing waveform via high, low pass, band pass, or band-stop digital filter, and captures signals triggered with edge, pulse, and video. Device analyzes synchronized signals with delay scanner and also determines eligible signals with user setting range.
---
Original Press Release:

Portable Digital Oscilloscope from GAO



4/9/2009

Toronto, Canada - GAO Instruments (www.GAOInstruments.com) has rolled out its portable digital oscilloscope (GAO1042M) - a dual channel, low bandwidth device meeting all needs for low bandwidth debugging. The oscilloscope is an ideal tool for engineers and technicians to perform complex measurements in sciences, medicine, engineering, telecommunications, and similar industries.

GAO's portable digital oscilloscope boasts mathematic functions, FFT spectrum analysis, automatic parameter measurements and option configurations. This easy to use oscilloscope applies the testing waveform via high, low pass, band pass or band-stop digital filter. It captures signals triggered with edge, pulse and video and analyzes synchronized signals with delay scanner. It also determines eligible signals with user sitting range.

For more information about this portable digital oscilloscope, please visit www.GAOInstruments.com or contact Sales@GAOInstruments.com.

About GAO Instruments

GAO Instruments is a leading provider of telecom instruments testers, optical and electronic measurement instruments, and other electronic products that serve the needs of electronic professionals internationally.

For more information please visit www.GAOInstruments.com.

GAO Instruments is a member of GAO Group, which also includes

o GAO RFID Inc. - www.GAORFID.com
o GAO Tek Inc. - www.GAOTek.com
o GAO Research Inc. - www.GAOResearch.com
o GAO RFID Asset Tracking - www.GAORFIDAssetTracking.com
o GAO Embedded - www.GAOEmbedded.com
o GAO Comm - www.GAOComm.com
o GAO Fiber Optics - www.GAOFiberOptics.com

Company Name: GAO Instruments Inc.
Address 1: 601 Milner Avenue,3rd Floor
City: Toronto
Country: Canada
Phone: 416-292-0038
URL: www.GAOInstruments.com

More from Software