Polyurethane Hose Material Meets FDA Standards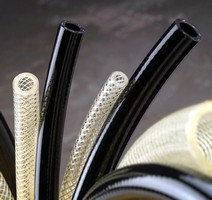 June 29, 2007

Suitable for Food, Water, and Industrial Uses

Southampton, PA - Urebrade® polyurethane hose, manufactured by NewAge® Industries, is now made from non-toxic ingredients that conform to the Food and Drug Administration's standard 177.2600 (rubber articles intended for repeated use). A durable product that handles repetitive flexing and abrasion, Urebrade is now well suited for wet and fatty food applications and beverage processing. It remains practical for industrial uses such as air lines, pneumatic control systems and robotics, low-pressure hydraulics, chemical transfer, vacuum equipment, granular material lines, oil and fuel supply*, and petroleum-based product transfer.

Urebrade is produced from a compound that, in addition to conforming to FDA standards, is listed by the National Sanitation Foundation's Standard NSF 61 for drinking water system components. It's manufactured from ether-based polyurethane reinforced with an open mesh polyester braid to allow much greater pressure capabilities over unreinforced tubing.

The greatest advantage of Urebrade is its long service life versus other hose materials containing plasticizers, which are additives used to make plastics more pliable. Urebrade is naturally flexible and does not require plasticizers. The hose experiences no flexibility loss, hardening, or cracking like other materials can as their plasticizer migrates out. This adds to Urebrade's longevity and can reduce hose replacement costs. Urebrade's resistance to flow contamination, moisture, fungi, weathering, tearing, impact, and radiation exposure, along with its appropriate use at temperatures ranging from -90°F (-67°C) to 175°F (79°C), make it a preferred choice.

Urebrade is manufactured in a transparent formulation in sizes from 1/4" through 2" I.D. For industrial applications opaque black color, available from 1/4" to 3/4" I.D. and offered at a reduced price, may be used. Both versions are well stocked for immediate delivery. Custom services such as cut-to-length pieces, heat-formed shapes, other sizes and colors, thermal bonding, and hose assemblies are available.

Additives in today's fuels and petroleum products warrant field testing.

For more information on Urebrade® polyurethane hose, contact the Fluid Transfer Specialists® at NewAge® Industries, Inc., 145 James Way, Southampton, PA 18966; phone 800-50-NEWAGE (800-506-3924) or 215-526-2300; fax 800-837-1856 or 215-526-2190; e-mail: info@newageindustries.com; product-specific web page: www.newageindustries.com/urebrade.asp

About NewAge Industries
In business since 1954, NewAge Industries manufactures and fabricates thermoplastic and thermoset tubing and hose. The company offers one of the broadest product lines of tubing, hose, and fittings in the U.S. and, with its introduction of the AdvantaPure® sanitary product line, is well suited to meet the demands of pharmaceutical and high purity applications. NewAge Industries prides itself on same-day shipment of 98% of orders for its core product lines. In 2006, NewAge Industries initiated an ESOP (Employee Stock Ownership Plan) for the benefit of both its employees and customers.

More from Fluid & Gas Flow Equipment