Polysiloxane Finish Coat extends maintenance cycles.
Press Release Summary: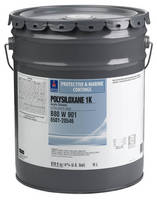 Promoting long-term color and gloss retention in harsh environments, Polysiloxane 1K cures with reaction from atmospheric humidity and provides weathering and chemical resistance. Single-component solution, available in Extra White base that can be tinted, provides protection in recommended range of 1.5-2.5 mils DFT. Application can take place in temperatures as low as 40°F and up to 90% relative humidity. Coat dries to touch within 2 hr at 77°F and can be recoated within 4 hr.
---
Original Press Release:

Sherwin-Williams Polysiloxane 1K Extends Maintenance Cycles



Enhanced Weathering and Chemical Resistance

Stretches Maintenance Budgets, Schedules

CLEVELAND, Ohio - Sherwin-Williams introduces Polysiloxane 1K, a single-component polysiloxane finish coat that provides superior weathering and chemical resistance compared to typical polyurethanes.

"Polysiloxane 1K offers excellent long-term color and gloss retention, extending the coating system's life cycle in harsh environments," said Brad Rossetto, Vice President, Marketing, Sherwin-Williams Protective & Marine Coatings. "It's a single-component coating that eliminates the hassle of mixing that comes with two-component coatings. This means less product and packaging waste, saving time and cost."

Polysiloxane 1K is an ideal steel coating choice for maintenance or new construction applications in the petrochemical, power generation, marine and general industrial markets.

Fast-drying Polysiloxane 1K utilizes a patented Sherwin-Williams resin and cures with a reaction from atmospheric humidity. It offers low VOCs (

Polysiloxane is available in an Extra White base that can be tinted. It provides protection in a recommended range of 1.5 to 2.5 mils DFT. Application can take place in temperatures as low as 40º F and up to 90 percent relative humidity. It dries to touch within two hours at 77º F and can be recoated within four hours.

Sherwin-Williams is a global protective and marine coatings company that delivers smarter asset protection and unmatched service and specification support to its customers from more than 4,400 locations worldwide. The company offers a complete line of time-tested, high performance coatings and systems to combat corrosion, supported by the largest group of NACE-certified coatings inspectors in the industry. With more than 140 years in business and a culture of product innovation, Sherwin-Williams today is the single source of supply for coatings solutions made to your specifications and delivered on time, every time.

Customer Contact: 800-524-5979