POLYGUARD PFA Lined, Mag-Drive Gear Pumps from Liquiflo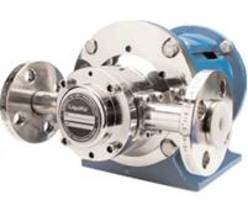 Non-Metallic Wetted Parts with Metallic Gear Pump Performance
The Liquiflo POLYGUARD has NO metallic wetted parts, a mag-drive coupling with a PFA lined Containment Can and a stainless steel housing lined with PFA. Poly-Guard combines the chemical resistance of a fluoropolymer with the strength of stainless steel. Max temperatures to 200° F & differential pressures up to 100 psi.
POLY-GUARD Features & Benefits:
Internal/external protection against corrosive fluids & harsh environments
Stainless steel body
Fluoropolymer lined for protection against corrosive liquids

Exempt from wicking problems associated with fiber reinforced housings

Pulseless flow for metering & transfer applications
Self-sintered SiC shafts with exceptional chemical resistance & wear resistance
Alloy-C or carbon fiber Containment Cans lined with PFA:

Alloy-C can limits eddy current development & subsequent heat generation
Carbon fiber can eliminates eddy currents altogether!
Download the POLY-GUARD Pump Brochure: http://www.springerpumps.com/uploads/Liquiflo-Poly-Guard-PFA-Line-Gear-Pump-Brochure-6-12spr.pdf
Download the Labeled Illustration of POLY-GUARD Pump Flyer: http://www.springerpumps.com/uploads/Liquiflo-Poly-Guard-PFA-Lined-Gear-Pump-Illustration-6-12spr.pdf
See Liquiflo Pumps In Springer Pumps Online Catalog: http://catalog.springerpumps.com/category/liquiflo?
R. Andrew Springer
Springer Pumps
Dir: 484-949-2906
Tel: 866-777-6060 / Int'l: +001 484-949-2900
Fax: 866-777-6383 / Int'l: +001 215-721-1296