Polyethylene Ball Valves provide full traceability.
Press Release Summary: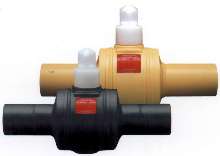 Polyball(TM) valves are offered in sizes from ½-12 in., both full port and standard port versions are available in medium and high density polyethylene and operate to 125 psi within -20 to +140°F temperature range. Valves deliver full traceability forwards and backwards - from customers' installation back to raw materials, including serial number of each fusion joint. Offerings include bubble-tight shut-off and corrosion-resistance.
---
Original Press Release:

Kerotest Claims Superior Flow, Easy Operation and Full Traceability for its New Line of Polyethylene Ball Valves


Millions invested in state-of-the-art manufacturing facility.

Full production to begin April 2003.

April 16, 2003, PITTSBURGH, PA, - Kerotest Manufacturing Corp., a leading supplier of valves and related equipment to the natural gas distribution market for nearly 100 years, announces an April 2003 production startup for its new polyethylene ball valve, Polyball(TM). The new Polyball valve delivers superior flow capacity, low operating torque and full traceability forwards and backwards. The valves are produced with the company's new, multi-million dollar state-of-the-art equipment that includes the most technically advanced plastic-processing tools and statistical process control systems available for plastic valve manufacturing today.

The product line includes a complete size range from ½" to 12" and both the full port and standard port are available in medium and high density polyethylene. The Polyball valve meets or exceeds ASME B16.40, ASTM D-2513 and CFR, Part 192 standards, operates to 125 psi, has a temperature range of -20°F to 140°F, features a bubble-tight shut-off, and is maintenance- and corrosion-free.

"Quite simply, we're making a better polyethylene ball valve," says Kerotest Chief Engineer Richard W. (Dick) Conley. "We began with a proven design concept, increased the flow capacity, then surrounded it with a more robust pressure-boundary, all designed to yield higher performance in a more reliable valve. Then, we invested in the very best manufacturing process equipment, developed tight quality assurance processes and incorporated statistical process control techniques to deliver a valve of unsurpassed integrity for the natural gas industry," he concluded.

The Polyball valve is manufactured in the United States at the company's facility in Mansura, Louisiana. Custom tooling and equipment have been designed for every valve size to achieve and maintain quality levels during production and minimize variation in all processes. "You've heard the term so many times, but this really is state-of-the-art manufacturing," boasts General Manager Bill Ferrari as he describes the new equipment and Statistical Process Control of the manufacturing processes that reduce variations in the molding, machining and fusion of each Polyball valve.

According to the company, the Polyball valve also sets a new standard for documentation with its full forward and backward traceability - from the customer's installation, back to raw materials, including the serial number of each fusion joint. Kerotest claims that no other manufacturer offers a more complete traceability program.

Kerotest stresses its near 100-year commitment to the industry as its impetus for such an ambitious product launch, especially as suppliers struggle to deliver value in a very competitive marketplace. "Many valve companies are owned by multi-national corporations with agendas that change based on stock market fluctuations, the economy or management shake-ups, often resulting in that valve group being sold to another large company," says company President Robert Visalli. "Our customers know we're employee-owned and American made. We control our own destiny and that puts us in the position to best serve the customer. And we plan on doing so for the next hundred years."

More information on the full line of Polyball polyethylene valves, including a catalog, is available by contacting Kerotest at 412/521-5942 or kerotest@kerotest.com.

About Kerotest Manufacturing Corp.

Kerotest Manufacturing Corp. is a leading supplier of valves and related equipment for the natural gas distribution and process control industries. Incorporated in 1909, today Kerotest is an employee-owned Total Quality Management company, celebrating its 20th anniversary as an ESOP in 2003. The company is headquartered in Pittsburgh, Pennsylvania where its product development, engineering, manufacturing and customer service operations are located. Kerotest manufactures its line of process valves and its polyethylene ball valves at its Mansura, Louisiana facility.

More from Non-Industrial Products