Polarized Light Microscope is suitable for conoscopy.
Press Release Summary: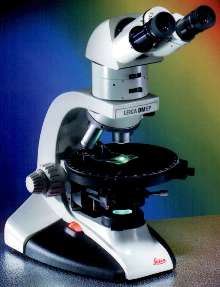 Engineered with strain-free optics that eliminate optical interferences, DM EP has rear facing nosepiece with 4 independently centerable objectives, Analyzer/Bertrand lens with swing-in/out controls and stabilizing mechanism, and rotating polarizer with swing-in/out controls and marked flats at every 90°. Also included: 2,000 hr, 35 W halogen lamp; 10x eyepieces with 20 mm field of view; and binocular and trinocular tubes that maintain crosshair orientation.
---
Original Press Release:

Leica Microsystems Presents the New Leica DM EP Polarizing Microscope


February, 2003

Contact: Molly Lundberg, Director, Communications
Phone (847) 405-7026, Fax (847) 405-0164

Leica Microsystems is pleased to introduce the new Leica DM EP Polarized light microscope, a competitively priced microscope that is designed to deliver high quality for orthoscopic polarized light applications and conoscopy. Leica designed the DM EP to meet the needs of teachers that require many advanced features not usually available in a teaching polarized light microscope, but at a great value.

The DM EP was engineered with strain-free optics that eliminate optical interferences and improve the accuracy of your findings. Every mechanism is precision engineered to eliminate deviations in alignment and ensure a centered field of view.

Features include:

o Rear facing nosepiece with 4 independently centerable objectives

o Analyzer/Bertrand lens with swing-in/out controls and stabilizing mechanism to provide proper orientation and ease of use for both conoscopic and orthoscopic observations

o A rotating polarizer with swing-in/out controls and marked flats at every 90 degrees for easy and accurate polarization orientations.

o 2000 hour 35W halogen lamp - brightest illumination in its class

o 10x eyepieces with 20mm field of view

o Standard Koehler field diaphragm with magnetic blue filter

o Binocular and trinocular tubes that automatically maintain crosshair orientation

The DM EP offers many advantages along with a solid brass focusing system and cast aluminum stand for unparalleled durability and stability. The microscope's ergonomic design and exclusive features can easily be enhanced with a wide range of accessories.

For more information, contact:

Leica Microsystems Inc.
2345 Waukegan Road
Bannockburn, IL 60015

Phone: 847/405-0123
Fax: 847/405-0164

Website: www.leica-microsystems.com
Email: info@leica-microsystems.com

More from Sensors, Monitors & Transducers