DC to DC Power Supplies (Converters)
Point of Load Converters have power sequencing capabilities.
Press Release Summary: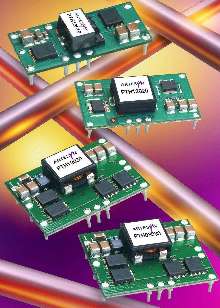 Compatible with Point-of-Load Alliance standard, PTH series non-isolated DC/DC converters provide means of addressing multiple power rail requirements of latest-generation boards. All 15 models are available in through-hole and surface-mount versions and offer output voltage adjustability, on/off inhibit function, and output over-current protection with automatic recovery. They are available with 9 current outputs from 6-30 A and input voltages of 3.3, 5, or 12 V.
---
Original Press Release:

New-Generation Point-Of-Load Converters Feature Power Sequencing Capabilities


Advanced converters are compatible with new Point-of-Load Alliance standard

Exceptionally wide choice of input & output voltages, current capabilities & control functions

Framingham, MA, November 11, 2003 - - Artesyn Technologies, Inc. (NASDAQ: ATSN) has launched 15 new high performance non-isolated point-of-load DC/DC converters, all of which feature exceptionally powerful control facilities, including a unique power sequencing capability. Fully compatible with the Point-of-Load Alliance (POLA) - a new form, fit and function standard providing true multi-sourcing capability to OEMs - Artesyn's PTH series non-isolated point-of-load converters provide electronic designers with a highly flexible and cost-effective means of addressing the multiple power rail requirements of latest-generation boards. Target markets include distributed power architectures in products such as workstations, and networking and wireless equipment - especially those involving complex multi-processor systems.

All 15 point-of-load (POL) converters in Artesyn's PTH series are available in through-hole and surface-mount versions. The converters all offer wide output voltage adjustability, set via a single resistor, together with an on/off inhibit function and output over-current protection with automatic recovery. They also feature the Auto-track(TM) power sequencing function that enables multiple converters to track each other, or an external voltage, during power-up and power-down. This built-in sequencing capability significantly simplifies on-board power provision for today's PCBs, where devices such as DSPs, FPGAs and ASICs often demand carefully controlled turn-on and turn-off of their various supply voltages.

Artesyn's PTH series POL converters offer OEMs a wealth of choice to help simplify design-in. They are available with nine different current outputs from 6 to 30A, and with nominal input voltages of 3.3, 5 or 12V, to suit the designer's choice of intermediate bus voltage. The converters' widely adjustable output voltages enable them to satisfy virtually all the supply requirements of low voltage silicon. The 3.3V input models can have their outputs set to any voltage from 0.8 to 2.5VDC; the 5V input models have an output range of 0.8 to 3.6VDC; and the 12V input models have an output range of 1.2 to 5.5VDC.

The 12V input models are ideal for use with low-cost intermediate bus converters, instead of isolated bricks, for applications where cost is critical. Furthermore, the POL converters' sequencing capabilities mean that designers can now implement complex distributed power schemes without having to use multiple isolated bricks or purpose-designed circuitry to provide the sequencing functions, thereby achieving significant savings in development time and cost.

The PTH series comprises five categories of non-isolated POL converters - determined primarily by output current capability and physical size - each of which contains three models covering the nominal input voltage values of 3.3, 5 and 12V. The smallest of these are the PTHxx050 series converters, which measure just 0.87 x 0.5 inches (22.1 x 12.7mm) and are capable of providing up to 6A output current, with conversion efficiencies as high as 95%. At the other end of the power scale, the PTHxx030 series includes models with a 30A output capability that measure 1.37 x 1.12 inches (34.8 x 28.4mm).

All PTH series POL converters provide a comprehensive set of control features, which vary in content depending upon the particular model. Many of the models have a pre-bias start-up capability, enabling them to be used in situations where feed-through from a multi-rail device such as an ASIC might cause a voltage to be present on the converter output during power-up. Most models also feature margin up/down control facilities, allowing the output voltage to be momentarily adjusted by ±5% to dynamically test load circuit operation over a range of supply voltages. The higher output models offer remote sense facilities to further improve load regulation performance, as well as self-resetting over-temperature protection.

Artesyn's PTH series POL converters are fully compatible with similar products manufactured by Texas Instruments and Astec Power under the Point-of-Load Alliance, providing customers with a true multi-sourcing option. The converters carry a full set of international safety approvals, including EN60950 (TÜV Product Service) and UL/cUL60950, and have an operating ambient temperature range of -40 to +85°C.

Pricing for 10,000-piece quantities starts at $9.00 US for the PTH03050, which is a 6A POL converter, rising to $24.86 US for the top of the range PTH05030 POL converter, which has a 30A output capability. The standard lead-time is stock to 6-8 weeks.

Background: The Point-of-Load Alliance (POLA) was formed by Artesyn, Texas Instruments and Astec Power in June 2003. Its aim is to standardize leading technology for high performance POL converters, ensuring interoperability and customer design flexibility. Under the terms of this alliance, all three companies are developing POL converters that have the same functionality, pin-outs and form factors. The advantages for customers include flexibility of sourcing and security of supply. For more information about Artesyn's POLA products, see artesyn.com/powergroup/new_pola_pth_launch.htm

Auto-Track(TM) is a registered trademark of Texas Instruments Incorporated.

Ref: AT337a - November 11, 2003

About Artesyn Power
Artesyn Technologies, Inc. Power Conversion division designs and manufactures power conversion solutions for industry-leading OEMs in communications and IT infrastructure markets. The division offers complete system solutions, ranging from custom AC/DC and DC/DC front-ends and energy systems, to standard board-mounted isolated DC/DC modules, and non-isolated point-of-load (POL) converters. Through its leading research and development initiatives, Artesyn's power conversion products utilize the benefits of distributed power architectures from advances including intermediate bus converters, ultra high-density brick converters, POL converters optimized for key markets including computing and TeledatacomTM, and active participation in power standards and industry partnerships that simplify multi-sourcing and time to market.

Artesyn is also one of the foremost providers of OEM hardware, software, and subsystems for telecom infrastructure applications. The Company's WAN interfaces, CPU boards, network protocols and hardware/software subsystems are used in a variety of Teledatacom(TM) systems, including SS7 signaling systems, signaling gateways, softswitches, wireless basestations, and DSLAMs. Artesyn is a public company whose common stock is traded on the NASDAQ exchange under the symbol ATSN. For more information, please visit the Company's web site at artesyn.com.

More from Software