PLCC Plugs allow socketing and SMT insertion.
Press Release Summary: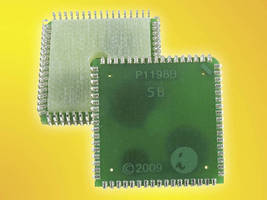 Constructed with precise lead frame assembly, PL-PLCC68-S-01 Series can be plugged into PLCC socket or soldered directly onto SMT PLCC pads. Units have true J-lead design and can insert into and extract from PLCC socket several hundred times without harming socket. Substrate between J-leads is recessed to allow ribs of target PLCC socket to fall in between. Applications include PLCC emulators for Microchip, Atmel, and other microprocessors in PLCC packages with 44-84 pins.
---
Original Press Release:

PLCC plugs Allow Reliable Socketing or Soldering of Upgraded Modules



BURNSVILLE, MN - Ironwood Electronics' new PLCC plugs - PL-PLCC68-S-01 allow reliable socketing and SMT insertion. These PLCC package emulators can be plugged into a PLCC socket or soldered directly onto the SMT PLCC pads using standard solder methods. The characteristics one should consider when selecting a PLCC package emulation plug are as follows: a) surface mountable b) durable c) reduced stress on target socket d) true j-lead design and e) retention force. Competitive parts are typically wirewrap pin on milled block assemblies which do not truly emulate the PLCC package. These 'block' designs may overstress the contacts or socket body of a PLCC socket after only a few insertions. The Ironwood Electronics PLCC plug (the PL-PLCCxx-S-01 part family) has a true j-lead design and can insert into and extract from a PLCC socket several hundred times without harming the socket. The substrate between the j-leads is recessed to allow the ribs of the target PLCC socket to fall between the j-leads. This increases the retention force of the plug in the socket in the right place. The contact engagement is between the plugs j-lead and the socket contact enabling clear signal path. A J-lead interface allows the Plug to be surface mounted to a daughter board. The large mass 'block' type plugs typically cannot be surface mounted. The PLCC plugs are constructed with a precise lead frame assembly to accomplish the accurate PLCC package emulation. Applications for these parts are in PLCC emulators for Microchip, Atmel, and other microprocessors in PLCC package with 44 to 84 pins.

Pricing for the PL-PLCC68-S-01 is $41.00 at qty 1 with reduced pricing available depending on quantity required.

For further information and a high resolution photo see: http://ironwoodelectronics.com/press/PressReleasePhotos/PL-PLCC68-S-01b_highres.jpg

Ila Pal

Vice President of Marketing

Ironwood Electronics

Phone: 800-404-0204

Email: ila@ironwoodelectronics.com

Skype: ila.pal

Twitter: http://twitter.com/ironwood_elect

Linkedin: http://www.linkedin.com/in/ilapal

More from Controls & Controllers